Air Conditioning and Energy Savings
Air conditioning and HVAC systems have a number of jobs. Heating systems increase the indoor temperature and compensate for heat losses. On the other hand, many spaces gain heat from the sun, people and equipment. This makes them uncomfortable, so cooling is also needed. Ventilation systems supply air to an inside space and remove polluted air.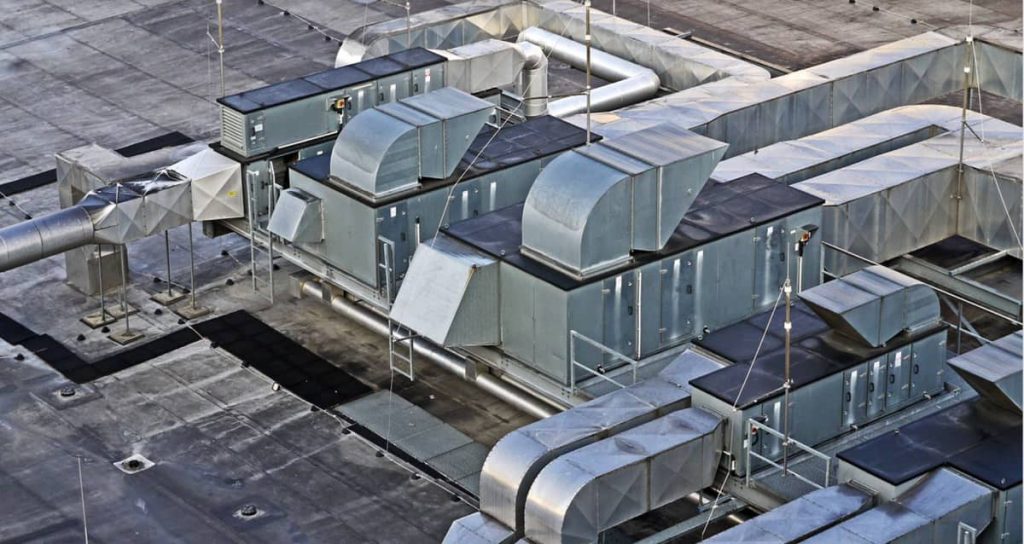 Heating, ventilation and air conditioning (HVAC) systems come in many different sizes and perform all sorts of functions. Some large systems are included in a building's central services. They were probably designed with the building's original plans and installed during construction. Others might provide heating through boilers and radiators, offering only limited ventilation or cooling in some parts of the building, such as meeting rooms.
Three systems or one?
Although we might think of heating, ventilation and air conditioning as separate services for a building, there are benefits of looking at HVAC as a single solution.
In fact, the relationships between these services and with the building itself are important. Looking at them together helps to control the environment more effectively and to manage energy use and costs. For example, if the systems are run separately a lot of energy could be wasted by heating one part of the building and cooling another part.
Energy consumption
HVAC can account a large part of the energy costs associated with using a building. Even small adjustments can make a big difference to the indoor environment and save money at the same time.
Through optimisation, annual energy savings of 30% or more can be achieved and system's performance can be improved. There are also opportunities to make energy savings at the design stage, with accurate calculations, a whole-system approach and the correct equipment specifications.
There are five important things to consider when looking at HVAC energy use.
The building's design, layout and use – all of these will affect internal temperatures and humidity.
The type of indoor conditions you need – more extreme temperatures, greater precision and better air quality all require extra energy.
Internal heat sources – lighting, equipment and people all add to the indoor temperature.
The efficiency of the HVAC system – a well-designed system will provide exactly the right amount of heating, cooling and moisture control in the right places at the right times.
Operating controls – effective controls should allow accurate control so that the system only operates when it's needed.
Saving energy
There are a number of steps you can take to minimise energy consumption of any system, while maintaining your indoor conditions.
Reducing the need – although we can't always be involved in a building's design, carefully specifying the HVAC system can have a big impact on energy use. This can include options to use 'free energy' such as solar power for heating, cooling and ventilation to make significant energy and cost savings. Natural ventilation uses airflow through doors and windows and allows rising hot air to be replaced.
Some systems can operate in 'mixed mode', using natural ventilation for heating and cooling where possible, and mechanical systems when needed.
Changing behaviour – the way we use a building can also make a difference. It's not just the air temperature that affects how we feel. Solar radiation, humidity, and air speed are important too. Of course, what we do, and what we wear are also relevant.
When the heating, ventilation or air conditioning systems are in use, up to one third of the energy use and costs can be saved by reducing the amount of outside air coming in to the building. It's always better to adjust the system than to open a door or window.
Understanding the controls – HVAC controls can be easily set to create a comfortable environment. There are four main types of control:
time controls so that systems only operate when and where a building is in use
temperature controls to maintain the environment within set limits
motion sensors to give even more accurate control in busy and less frequently used areas.
real time air quality monitoring to respond to changing conditions.
Regular maintenance – this does much more than replace worn elements of the system. It's essential to maximise efficiency, to reduce energy waste and to avoid breakdowns.
HVAC components must be kept free of dirt and obstructions to operate efficiently.
The overall system should be serviced annually either by a maintenance technician or a professional contractor. In the meantime, regular routine checks of filters and pipework will help to identify performance issues and potential problems at an early stage. Pressure gauges are helpful to highlight when replacement filters are needed.
Upgrades – older HVAC systems might be reaching the end of their operational Iife as the refrigerants they use are no longer available. Some systems have been altered to operate with new replacement refrigerants, but reliability can become an issue over time. If you are considering upgrading or refurbishing your HVAC system, there are opportunities for energy savings.
Expert advice is essential when you commission a new HVAC system or replace and old one. By making sure that you use the most efficient equipment and that the system is professionally designed to meet your requirements you can be confident that it will efficient and cost effective.
Chillaire – a national heating, ventilation and air conditioning partner
Centrally located in Nuneaton, and with offices around the UK, Chillaire is a trusted partner for design, installation and maintenance of heating, ventilation and air conditioning systems.
You can contract us through our website www.chillaire.co.uk or email us at sales@chillaire.co.uk.
You can call any one of our local offices:
Nuneaton & Warwickshire Office: Unit 1 Veasey Close, Attleborough Fields Industrial Estate, Nuneaton, CV11 6RT. Telephone: 024 7632 0300
Coventry & West Midlands Office: 16 Lythalls Lane, Holbrooks, Coventry, West Midlands, CV6 6FG. Telephone: 024 7624 9440
Leicester & Leicestershire Office: 3rd Floor, St George's House, 6 St George's Way, Leicester, Leicestershire, LE1 1QZ. Telephone: 0116 202 5094
Redditch & Alcester & Worcestershire Office: Minerva Mill Innovation Centre, Station Road, Alcester, Warwickshire, B49 5EH. Telephone: 01527 531275
Northampton & Northamptonshire Office: Moulton Park Business Centre, Redhouse Road, Moulton Park, Northamptonshire, NN3 6AQ. Telephone: 01604 269540
Kettering, Corby & Northants Area Office: 10A Silver Street, Kettering, Northants, NN16 0BN. Telephone: 01536 386046