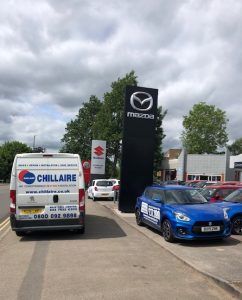 A Mitsubishi Heavy Industry heat pump ceiling air conditioning system was the ideal solution for our recent installation at the Coventry-based Mazda and Suzuki showroom.
The Green 4 Motor Company dealership provides new and used cars sales and servicing. They are recognised for their in-depth product knowledge and willingness to help whenever they can.
That's why we have enjoyed working with them so much for the last 10 years, looking after their existing air conditioning.
Like us, they're committed to quality and service, so when it was time to replace their air conditioning, we didn't hesitate to recommend a Mitsubishi Heavy Industry solution.
A good showroom environment is essential
Temperature control can be challenging in showrooms that have high ceilings, a lot of large windows and often a mezzanine floor as well. However, maintaining a comfortable ambient temperature throughout the showroom, offices and staff areas is essential for productivity and sales.
It's difficult to concentrate if the temperature is too high or too low. When customers visit a showroom, a fresh and comfortable environment will make them want to stay and improve the chances of a sale.
Carefully designed ceiling air conditioning units with well-calibrated controllers will help to manage the challenges of convection in larger open spaces and they won't spoil the design of the showroom either.
Ceiling air conditioning from Mitsubishi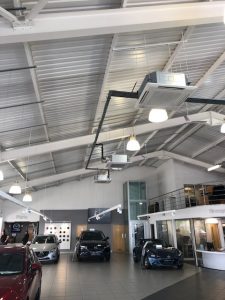 The Mitsubishi Electric ceiling air conditioning cassette system (PLA-SM) we installed features inverter technology and uses R32 refrigerant, making it a good all-round choice in terms of impact on the environment, energy efficiency, safety and cost-effectiveness.
They are an excellent air conditioning solution for larger business premises such as showrooms and, since they can be installed with a pipe run of up to 40 metres to the outdoor units, they are flexible too.
Air conditioning inverter technology
Inverters provide good performance for both heating and cooling. They control the voltage, current and frequency of elements such as the compressor motor in the air conditioning unit.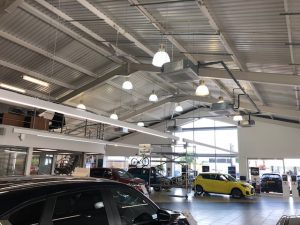 Information from sensors monitoring the environment will adjust the revolution speed of the compressor to regulate output, reducing electricity consumption and maintaining comfortable ambient conditions.
By controlling operation frequency, the start-up output is more powerful, creating a comfortable temperature quickly. Once right temperature is reached, it will be monitored and the most efficient waveform calculated to keep the space in the comfort zone without large temperature changes.
A local business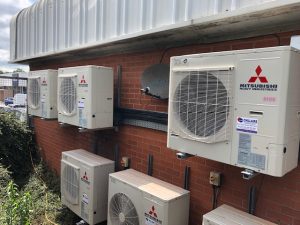 Chillaire is a local business with our head offices in Nuneaton. We have working in the Coventry area for almost 30 years, including areas around Leamington Spa, Rugby and Hinkley.
We don't just install air conditioning and heat pumps, we also design and install commercial chillers and industrial heating and ventilation systems.
Please get in touch if you would like to find out more. Email: sales@chillaire.co.uk
Local West Midlands Office: Patani House, 16 Lythalls Lane, Coventry CV6 6FG
Coventry office telephone number024 7624 9440
Warwickshire Office: Unit 1 Veasey Close, Attleborough Fields Industrial Estate, Nuneaton, Warwickshire, CV11 6RT
Nuneaton office telephone number: 024 7632 0300
Leicestershire Office: 3rdFloor, St George's House, 6 St George's Way, Leicester, Leicestershire, LE1 1QZ
Leicester office telephone number: 0116 202 5094
We also cover the adjacent counties of Nottinghamshire and Northamptonshire.