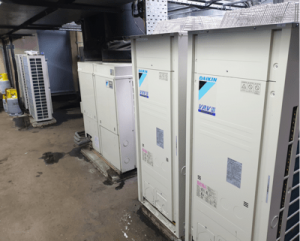 Energy-efficient replacement air conditioning for a Daikin R22 system
The offices of a long-standing Chillaire Limited customer in Nottingham recently received energy-efficient replacement air conditioning for their Daikin system, which originally used R22 refrigerant.
The Electric Avenue offices of data experts, Experian, are one of six they have in Nottinghamshire.
The life of the air conditioning system had been extended by converting it from R22 refrigerant to a more environmentally friendly alternative. However the time had come for a full replacement air conditioning system.
To keep the business running smoothly with the minimum of disruption, the work was completed during night shifts and on Saturdays to avoid disruption.
Responding to the R22 refrigerant ban
When R22 refrigerant was banned back in 2015 some businesses decided to use alternatives such as R417a or R422d rather than installing replacement air conditioning.
This was a practical short-term solution, but many have since experienced large numbers of breakdowns. Compared with businesses that drew up replacement plans during 2013 to 2015, before the ban came into effect, this has resulted in high repair and maintenance costs.
In contrast, businesses that install replacement air conditioning will have new systems using environmentally friendly approved refrigerants and a five-year warranty. With much improved energy efficiency, running costs will also be significantly reduced.
Modern replacement air conditioning
The existing air conditioning at Electric Avenue was provided by an old Daikin R22 system which had been converted to use R417a (Isceon MO59) refrigerant. The units had reached the end of their life cycle and a replacement air conditioning system was needed.
The new Daikin Variable Refrigerant Volume (VRV) system uses R410a refrigerant, allowing the existing pipes, cables and containment systems to be reused, making it a very cost-effective solution.
A tailored air conditioning solution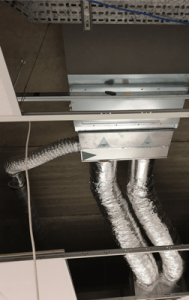 New slim-line Daikin model FXS-Q powerful medium static pressure units were chosen for this project. With a built-in height of just 300mm, they are ideal for narrow ceiling voids.
The branch selector (BS) boxes were replaced allowing multiple fan coil units to be connected to the same air-conditioning system so that they can independently generate heating and cooling at the same time.
We also installed new room sensors and Daikin's iTouch centralised controller, which allows cooling and heating levels to be set independently when parts of the premises are occupied and unoccupied at night and during weekends, for example.
Technical challenges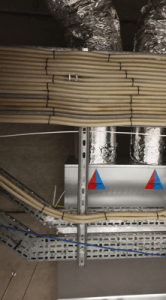 Air is brought in, distributed and removed via supply and return plenum boxes to installed in the false voids with solid insulated ducting. Linear grilles supply ventilation along the perimeter of each floor and the return air is extracted from the middle through linear grilles.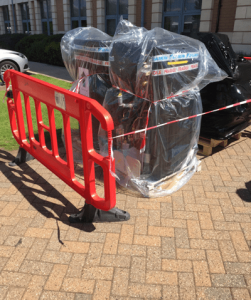 There were sixteen original outdoor units housed in the building's loft space. They were probably installed during construction, leaving our engineers with some practical challenges.
To install the replacement variable refrigerant volume (VRV) heat pump outdoor units, we arranged to have them taken off Daikin's assembly line in Belgium in a flat-pack form to transport them to the site. Our engineers then moved them into the loft-space plant rooms by hand and built them on site.
Safety from start to finish
Our experienced project managers used their wide experience to plan and implement this installation.
They are well-qualified in design and in all aspects of safety health and safety from the Institution of Occupational Safety and Health (IOSH). Our site supervising engineers are all Site Supervisor Safety Training Scheme (SSSTS) qualified, so our customers can always be confident that good safety practices are a tope priority for every project.
The Daikin VRV range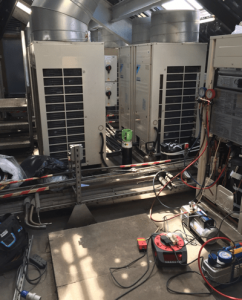 Daikin is widely recognised as one of the best air conditioning manufacturers in the world with an emphasis on innovation and energy-efficiency.
Their equipment is popular with clients, consultants and contractors because design and installation is a straightforward process.
Daikin was the first to develop a Variable Refrigerant Volume (VRV) system. It was the world's first multi-split type air conditioner for commercial buildings. It made Individual zone control a practical option. Coupled with inverter technology, precise temperature control and efficiency can be achieved, cuts energy use maintaining a more comfortable environment.
Other manufacturers have since their own versions, known as VRF or Variable Refrigerant Flow" systems.
Daikin's research and development team also developed new systems such as the ceiling cassette 4-way fan coil unit and the 360 degree round flow cassette fan coil unit for use with Daikin VRV systems.
Solutions for all sectors
Heat pump air conditioning systems can be tailored to the requirements of many sectors, including chemists, laboratories, clinics, surgeries and consulting rooms.
Please call us for a free no obligation site survey and quotation.
Visit our website www.chillaire.co.uk or email us at sales@chillaire.co.uk.
Chillaire Limited has local offices around the country:
Nuneaton & Warwickshire Office: Unit 1 Veasey Close, Attleborough Fields Industrial Estate, Nuneaton, CV11 6RT. Telephone: 024 7632 0300
Coventry & West Midlands Office: 16 Lythalls Lane, Holbrooks, Coventry, West Midlands, CV6 6FG. Telephone: 024 7624 9440
Leicester & Leicestershire Office: 3rdFloor, St George's House, 6 St George's Way, Leicester, Leicestershire, LE1 1QZ. Telephone: 0116 202 5094
Redditch/Alcester & Worcestershire Office: Minerva Mill Innovation Centre, Station Road, Alcester, Warwickshire, B49 5EH. Telephone: 01527 531275
Northampton & Northamptonshire Office: Moulton Park Business Centre, Redhouse Road, Moulton Park, Northamptonshire, NN3 6AQ. Telephone: 01604 269540
Kettering & Corby Office: 10A Silver Street, Kettering, Northants, NN16 0BN. Telephone: 01536 38604