Commercial Air Conditioning in Coventry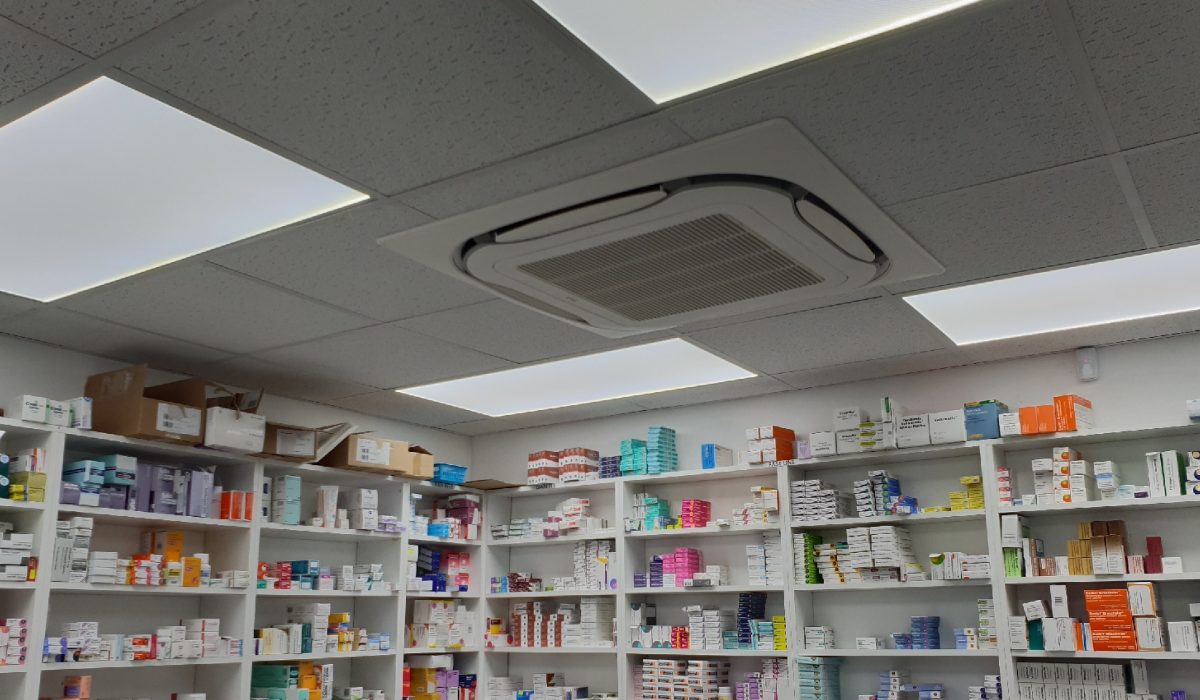 Air Conditioning, heating and ventilation systems for offices, financial, educational, legal, information, health, laboratories & more.
Environments where commercial air conditioning could be install include hotel rooms, class rooms, computer rooms clean rooms and laboratories.
Our commercial air conditioning solutions range from single split systems for single offices to multi type systems, such as the variable refrigerant flow (VRF) systems for larger multi office complexes.
Energy Efficient inverter driven heat pump multi type (cooling and heating) VRF systems
We supply and install all major brands of multi type and VRF systems, these are high energy efficient inverter driven heat pump cooling and heating systems. These systems provide total building temperature control. We can execute projects ranging in size from a small single retail outlet to large office blocks or complexes, installing simple or sophisticated systems that provide instant cooling or heating ranging from 1kW to 500kW and more.
Single Inverter Driven Heat pump Energy Efficient Split System
These are single indoor units linked to single outdoor heat pump units, perfect for small single offices, shops or classrooms and you can put multiple split systems in larger rooms or areas. They are Energy Saving Inverter Systems with energy savings of up to 30%. Inverter air conditioners significantly reduce power consumption even while continuing to operate at low power after reaching the set temperature.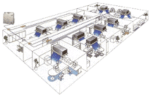 VRF Systems
For individual cooling or heating, The VRF system links up to 64 smart, stylish indoor units with a single outdoor unit, enabling cooling or heating to be supplied from the same refrigerant circuit. These systems can have 1000 metre pipe runs.
Heat Recovery System
These systems provide remarkable savings in energy consumption. Heat recovery is achieved by diverting exhaust heat from indoor units in cooling mode to those areas that require heating.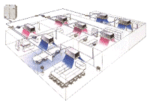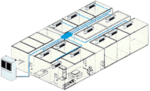 Multi-Type Systems
Multi-split systems are convenient, economical and space saving. They allow additional flexibility so that groups of units can operate in either heating or cooling mode at the same time.
The most advanced commercial air conditioning solution
In recent years user expectations of air conditioning systems have significantly changed. Not only do they expect zone heating and cooling, but also demand a range of services that optimises room comfort and reduces energy and maintenance costs, combined with maximised simplicity and operating flexibility. The system must be energy-efficient, versatile in installation and functionality, flexible in programming and use, reliable and easy to use.
There are more and more requests for central and precise management of the air conditioning heat pump system, permitting accurate and personalised calculation of the energy consumption. The VRF systems are the perfect answer to all this and are increasingly used as an alternative to traditional water based heating and cooling systems. Variable refrigerant flow benefits from the advantages of direct expansion linked to inverter control and the most sophisticated electronic control. This technology has many advantages, from the system design to the installation and operation phase. The wide range of indoor units makes VRF the most flexible choice to satisfy any building requirement. Most manufacturers have two ranges of VRF systems, heat pump systems providing cooling or heating to all areas at any one time and heat recovery systems that are able to provide simultaneous heating and cooling to any area at any time, both are unique, energy-efficient and versatile.
Close Control & Clean Room Applications
We design, install and maintain close control systems for customers in various sectors such as retail, aerospace, manufacturing, councils, government etc, these are generally located at the customer head quarters serving the central main computer rooms, measuring rooms or R&D labs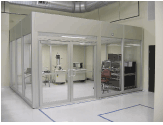 These are special close temperature and humidity control systems and can hold room conditions to very close tolerances 24 hours a day, 7 days a week, 365 days a year. This is due to their build quality, technology, sophisticated software and microprocessor controllers. They are often designed as run and standby and each system has multi stage cooling and heating. They are extremely robust and reliable, with the correct level of regular maintenance care, they can last for decades.
Room Humidifiers
The Vapac Minivap Humidifier is ideal for commercial applications, it is designed to meet the particular requirements of small commercial premises, and can be used alongside all air conditioning and heating systems to maintain the required humidity levels and can be installed relatively easily as a stand alone unit with its own internal control. It is available as a room distribution unit, with a top discharge plenum, which blows the steam directly into the same room it is located. The alternative option, is having it located outside the room and a steam distribution nozzle, that can be installed into the supply ductwork serving the room.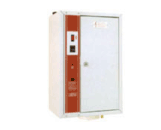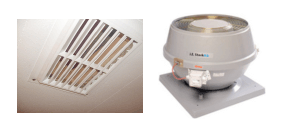 Ventilation & Heat Recovery Ventilation
There is increasing demand to make environmental ventilation systems more energy efficient to reduce both heating costs and carbon emissions. Better insulation, double glazing and draught proofing effectively prevent air escaping from the building. This means that water vapor created in everyday activities such as restaurant kitchens or office canteens cannot escape, which causes a build-up of condensation, lack of ventilation can also lead to unpleasant smells to develop and then linger around. A controlled ventilation system is the answer. But what sort of ventilation?
Normal Ventilation systems work on the basis of air change rate per hour, a fixed amount of air is extracted from a space or area and then replenished in any one hour. For this a straight forward extract fan and fresh air fan to pump air in and out, is all that is required, however for some environments, such as office's, an electric heater maybe required to warm up the in coming air to bring it up to room temperature and a filter maybe used to clean the fresh air. For large spaces, such as a hall or a building, a ventilation air handling unit may be required, this would house the electric heater battery or low pressure hot water coil, fan and filter and would normally be located in a plant room and ducted to the hall or around the building.
Heat Recovery Ventilation
Heat Recovery Ventilation (HRV) is a controlled ventilation system that is effective and economical to run. It extracts the moist, stale air from the building and replaces it with clean filtered fresh air, without letting the heat escape. HRV recovers the heat from the outgoing warm air and transfers it to the incoming fresh air. This means that the energy that would otherwise be lost is used to heat the incoming air, helping to maintain a comfortable temperature.
How does it work
HRV systems recover approximately 85% of heat from the extracted stale air by using a counter flow heat exchanger. The outgoing and incoming air pass next to each other but do not mix. The incoming air is filtered to reduce the incidence of pollen and dust while the outgoing air is filtered to protect the heat exchanger and internal components.
Provide a clean draught-free environment
Improve indoor air quality
Provide controllable ventilation
Supply energy positive ventilation for maximum efficiency
Operate quietly
Recover approximately 85% of heat from extracted air to warm fresh incoming air
Are environmentally friendly and are a recommended option in Building Regulations Part L 2006
Heat Recovery Ventilation Heat Exchanger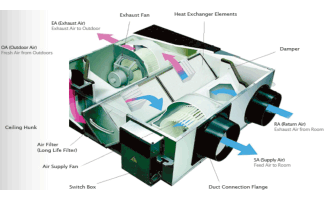 Single Area HRV Systems, Building HRV Systems and Control Systems
We have experience with sophisticated control systems to control and monitor ventilation systems incorporating ventilation with cooling and heating (gas fired or electric) to provide ideal environmental working conditions.
This can consist of either roof / wall extract fans with return grilles for fresh air or central air handler and ductwork for large office block applications.
We can install control systems for temperature control operation where the system will operate to temperature demand i.e. if it gets too warm the system will operate automatically or will cut out if the temperature becomes too low or incorporate a heater for low temperature.
Here are two HRV units, one for a few small offices or large open plan space and the other is a large ventilation system with a gas fired heating unit. This is a combination system designed to provide fresh air, heated if required, using gas fired heating and air extraction. For a large office complexes, this would normally be situated on the roof and would provide ideal environmental conditions to the office via a network of ducts and air ways.

Light Commercial Gas Fired Heating
We design, supply and install various types of electric and gas fired commercial heating systems, these range from gas fired boilers for hot water and small central heating systems for small office applications, warm air units for show rooms and electric warm air curtains for retail.

Commercial Portable Systems
We supply various types of portable air conditioning systems for small offices.