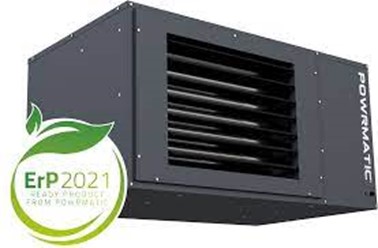 Powrmatic have brought out their new ErP 2021 compliant LX range of gas fired unit heaters which come with fully modulating burner technology with reduced NOx levels, whilst maintaining the construction, dimensions and build quality of its LNVx predecessor.
Same quality /Reduced NOx.• ErP 2021 Ready
Efficient modulating burner
Reduced NOx technology
British built
Space saving 'off floor' installation
Durable and compact design
Stealth RAL 7015 as standard
Easy control options and accessories available
Powrmatic's new LX range of gas fired heaters are a development of the very successful and well established LNVx range that was brought in by Powrmatic a few years ago, which was at that time to replace the NVx range. The LNVx range became very familiar to installers and end users, comfortably meeting current NOx criteria, as well as the minimum seasonal efficiencies stipulated under ERP standards which came into force during 2021.
Features
The new LX heater has multi in-shot burners matched to each tube assembly and manifold to a common gas valve and ignition system, and itself complete with flame monitoring plus safety controls. It can be supplied ready to use for natural gas (G20) and if required LPG (G31), either option is available at time of order by customer.
Optimised Range & Heat Exchanger Options
The LX Range has been optimised to enable heating systems and environment designers to match outputs and airflow characteristics with a wide variety of different buildings or applications. The 4-pass tubular assembly is manufactured from aluminised steel formed, swaged and expanded without recourse to stress-inducing welding. A variety of graded stainless steel options are available.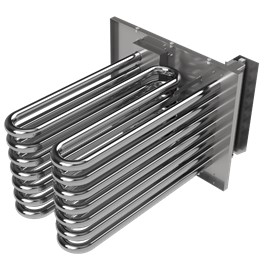 Simple, Flexible & Economical Control
The new Powrmatic controller has been optimised and designed for ease of use, also to maximise performance of your heating system. It can control individual heaters using the MC200 controller options or multiple heaters using the MC300 controller, allowing for the flexibility of variable time and temperature control, as well as optimised start / stop prediction. The new controller can monitor heating systems constantly, monitoring previous performance and determining the optimum time to turn on the heating to raise the building temperature to the required set point temperature.
Information for this article has been sourced from Powrmatic, for further information on Powrmatic products and more, visit their website: www.powrmatic.co.uk
For new sales & installation quotations for Powrmatic gas fired appliances and products please contact Chillaire Limited, a supplier and installer of Powrmatic systems by emailing us at: sales@chillaire.co.uk or you can call us:
Local Office Phone Numbers:
Coventry : 024 7624 9440
Nuneaton : 024 7632 0300
Rugby : 01788 669164
Warwick : 01926 825681
Leicester : 0116 252 5094
Northampton : 01604 269540
Kettering : 01536 384046
Milton Keynes : 01908 483585
Redditch : 01527 531275
Tamworth : 01827 842224
Derby : 01332 561729
You can visit our website www.chillaire.co.uk for full details for all types of products and appliances such as air conditioning systems, VRF & VRV heat pump systems, chillers, gas heating boilers, gas fired heaters, air to air source heat pump systems and heat recovery ventilation systems.