Redditch Classroom Mitsubishi Electric Air Conditioning Installation
Chillaire Limited carried out the installation of a Mitsubishi Electric wall split type air conditioning system from the Mitsubishi Electric MSZ-SF wall range to provide 6.5 kW of cooling capacity & 7.0 kW heating capacity into a new School Classroom at a school in Redditch, Worcestershire.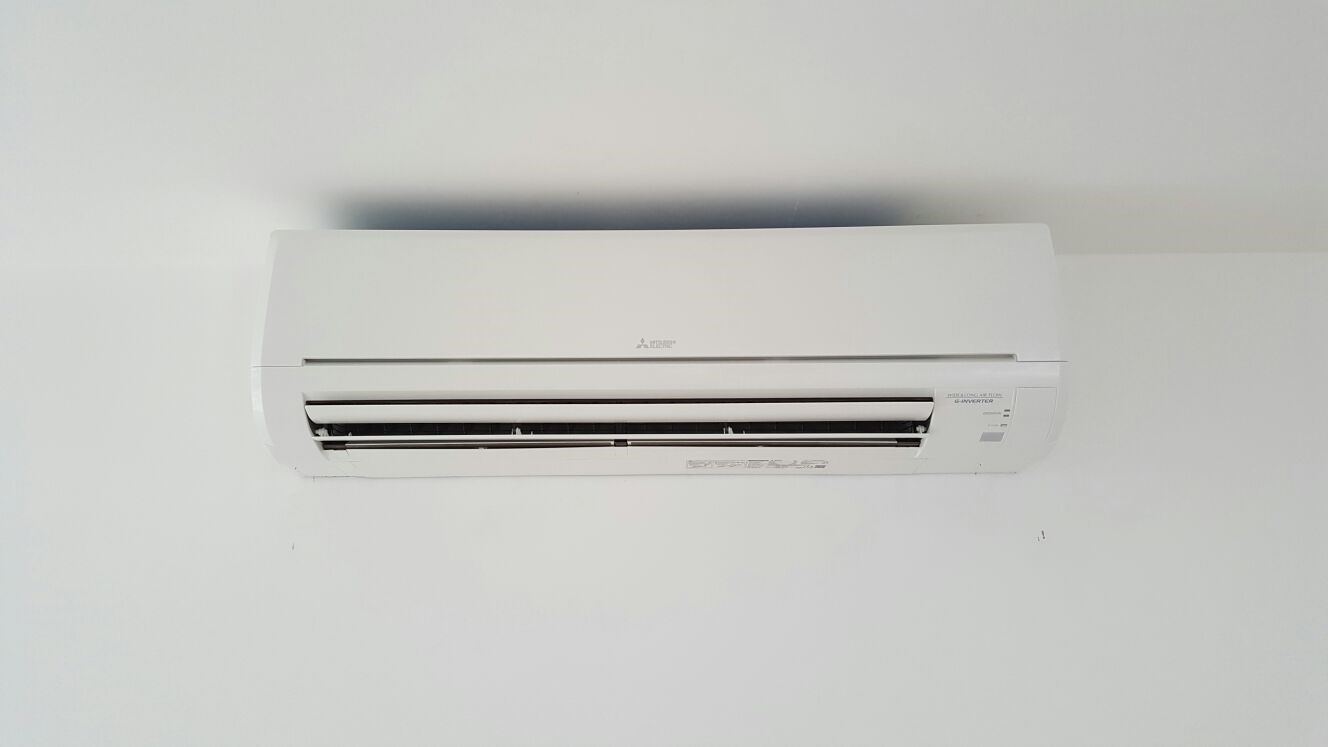 The Mitsubishi Electric MSZ-SF indoor wall units are aesthetically very good looking and offer value for money as the Mitsubishi Electric small end capacity range. The Mitsubishi Electric MSZ-SF model range is heat pump inverter driven technology and therefore offer energy efficiency.
The system was designed, supplied and installed by Chillaire Limited into a new portacabin classroom at a school in Redditch, Worcestershire to provide ideal conditions all year round, with cooling in summer and heating in winter.
The Mitsubishi Electric Outdoor unit was installed at high level on specially made brackets attached to the rear of the classroom at high level, attached to the portacabin structure onto special board which was installed by the portacabin manufacturer to take the weight of the outdoor unit and to help reduce vibration, security cage was installed over it to protect it.
Chillaire Limited have a installed a number of air conditioning heat pump wall split type systems in and around the Redditch, Henley in Arden, Hockley Heath, Bromsgrove and general Worcestershire area over the past few years.
Heat pump air conditioning appears to becoming quite popular with schools, as they provide ideal conditions in the classrooms all year round and helps increase concentration for pupils during lessons.
For details of data centre or computer room air conditioning systems or any type of air conditioning systems you can call us on our Redditch local number: 01527 531275 or email us at sales@chillaire.co.uk
We cover the whole of the Redditch & Worcestershire area, Worcester, Kidderminster, Droitwich, Bromsgrove, Henley in Arden, Knowle, Solihull and going into the Birmingham & West Midlands area.
Call us today on Redditch: 01527 531275
Redditch & Alcester Office: Minerva Mill Innovation Centre, Station Road, Alcester, Warwickshire, B49 5EH.
Call us on Redditch: 01527 531275 or Alcester 01789 27289
We also cover the adjacent counties, Worcestershire, Warwickshire, West Midlands and Birmingham area.
Coventry & West Midlands office, 16 Lythalls Lane, Holbrooks, Coventry, CV6 6FG for further details you can call us on 024 7624 9440
Email us: sales@chillaire.co.uk
You can call us on our Freephone number: 0800 092 9898
Visit our website for further details: www.chillaire.co.uk