Leamington Spa – Denco Close Control Air Conditioning Installation by Chillaire Limited
Chillaire surveyed, designed and installed a Denco close control precision air conditioning system into a lab in Leamington Spa to provide close control temperature and humidity control of 20 Deg C plus or minus 1 Deg C and 50% relative humidity (RH) control plus or minus 10%.
The system has been running for over 6 weeks and has been holding the temperature & RH 24 hours a day, 7 days a week.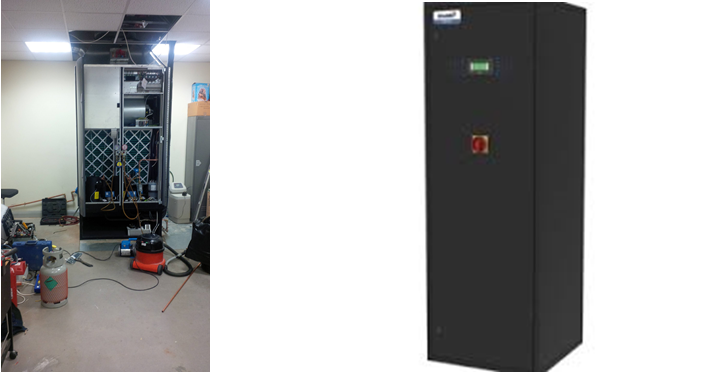 Chillaire Limited specialise in providing, design and installation of precision close control air conditioning systems for data centres, computer rooms, comms rooms, server rooms, calibration labs, metrology labs, standards rooms and clean rooms.
Our design engineers can assess your requirements and design the right system for you with a cabinet type air handling unit with up flow supply air into a false ceiling void with front return air or down flow supply air using a false floor with top return air or front return air there numerous combinations.
We can even put the cabinet air handling unit into an adjacent room and duct the supply and return air to the room.
The controls on these units typically tend to be Trend or Carel microprocessor controls.
In addition to Denco precision close control systems, Chillaire Limited can also supply Airedale, Stulz, Climaveneta, IMI CD3, Trane, Lennox, Uniflare, Daikin, Mitsubishi, Carrier, York, CIAT, Clivet, Montair and many more brands. We select the right brand and system for your requirement at the best price.
In addition to installing the system we can arrange the installation of false floor and false ceilings.
For more information for projects in the Leamington Spa, Warwick & Coventry area please contact our Coventry, South Warwickshire & West Midlands office: 16 Lythalls Lane, Holbrooks, Coventry, CV6 6FG / Tel: 024 7624 9440 or email sales@chillaire.co.uk
For other areas please see our local addresses below:
Northamptonshire Office:
Moulton Park Business Centre
Redhouse Road, Moulton Park
Northampton
Northamptonshire
NN3 6AQ / Tel: 01604 269540
or email: sales@chillaire.co.uk
Redditch / Alcester Office & West UK Office:
Minerva Mill Innovation Centre
Station Road, Alcester
Warwickshire
B49 5EH / Tel: 01789 273289
or email sales@chillaire.co.uk