Powrmatic LX140F Gas Heater Installation
Chillaire Ltd supplied and installed two new Powrmatic LX140F roof suspended gas fired heaters at Brennan Industries new premises at Wharf Approach in Walsall and four new Powrmatic CEC destratification fans into their new warehouse. Heating was required for the warehouse to provide heating for the staff as they carry out their daily duties, which can now be done in a more comfortable environment and more comfortable working conditions.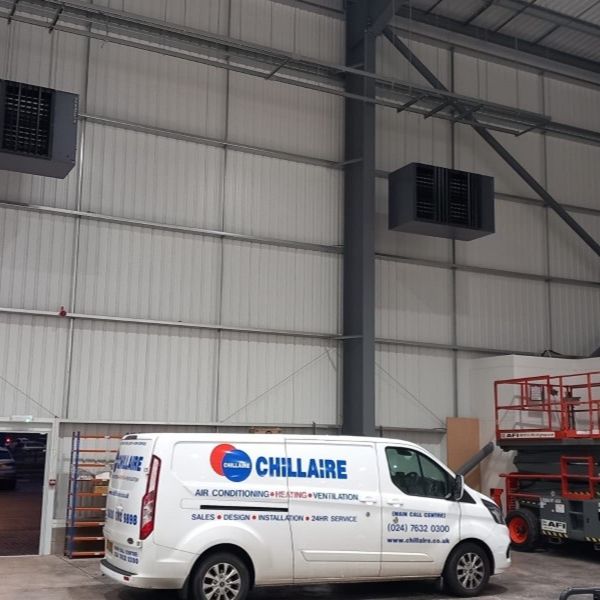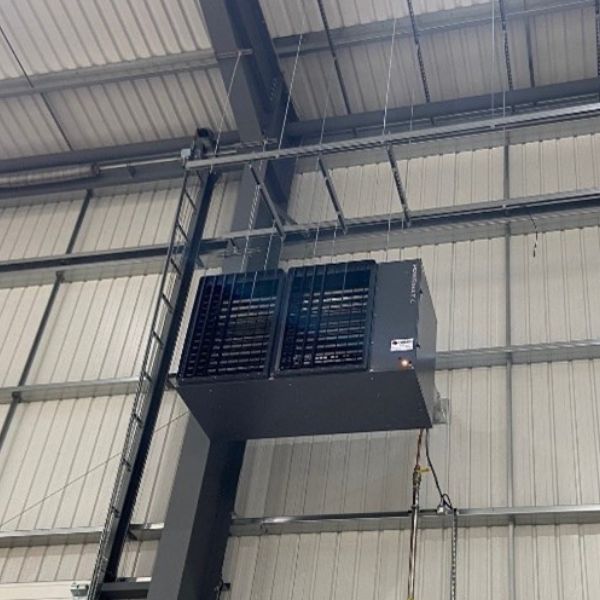 Chillaire selected an energy efficient gas heater from the new Powrmatic LX range to provide 280 kW heating at full capacity with the option to provide reduced heating capacity of 145 kW on milder days hence lower gas consumption with energy saving + cost saving.
The heater was installed with a horizontal flue so no need to cut holes through the roof and having to weather seal afterward.
New Powrmatic MCV 200 controller was installed to provide control of the heater.
Chillaire Limited provided a full service from arranging the delivery of the gas heaters direct to site, hanging them, installation of flues, new stainless steel gas pipe installation, mains electrical power installation and installation of the 2x MCV controllers, and full commissioning.
Powrmatic CEC 4500 Destratification Fan Installation
What is thermal stratification?
Thermal stratification is a natural phenomenon that affects all buildings. Hot, lighter air rises towards the ceiling. Cool air falls to the floor. The result is a dramatic temperature difference between the floor and ceiling.
Buildings with high ceilings are more likely to suffer from extreme temperature differences. Heat will inevitably try to rise to the top of a building and keep increasing in temperature by up to 14°C. Conversely, heavier cold air will fall to ground level. The main negative consequence of thermal stratification is that your heating, ventilation and air conditioning (HVAC) systems have to work harder to maintain an even temperature.
Your warm air heater or heat pump air conditioning / ventilation air handling units (HVAC systems) have to over-deliver on hot or cool air in order to resist the effects of thermal stratification.
Consequently, your energy bills can be higher and your environment not ideal.
To combat the problem of thermal stratification, there are a range of destratification fan systems that will balance the internal temperatures in your building, by recirculating existing heat and any additional heat generated from people, processes or solar gain.
Destratification fans / systems will also help reduce the operation time and workload required of heating and cooling systems significantly.
Chillaire Ltd supplied and installed 4x Powrmatic CEC4500 destratification fans with built in thermostats that activate each fan as the air at high level gets warmer pushing the warm air down to ground level constantly.
Chillaire Limited provided a full installation from delivery of the fans, hanging them, mains electrical power installation and installation of the controllers, and testing.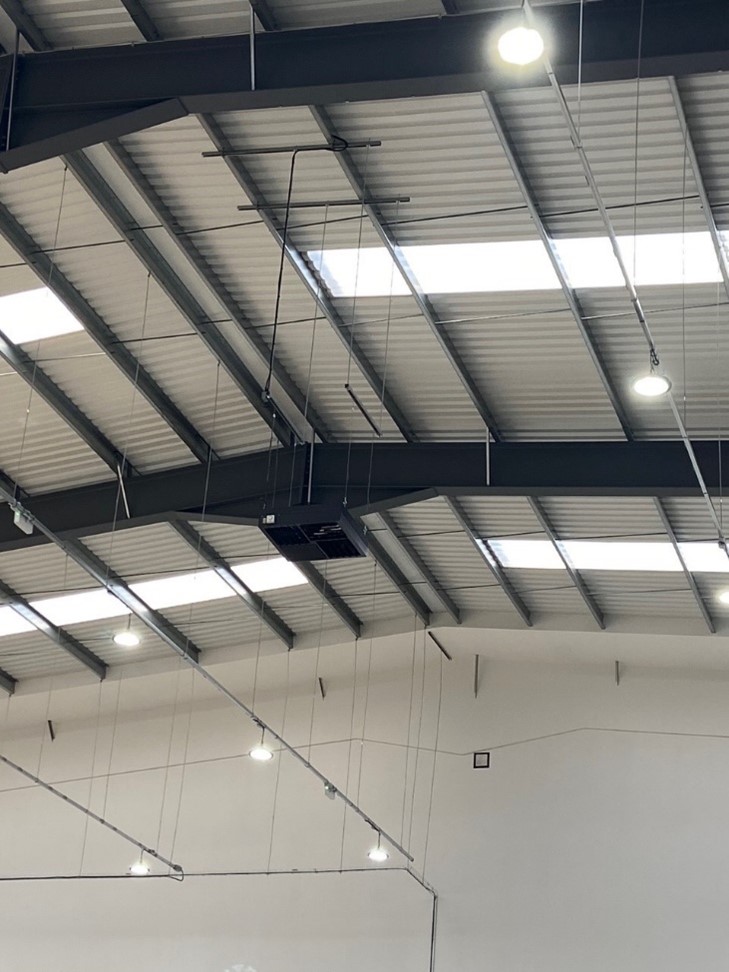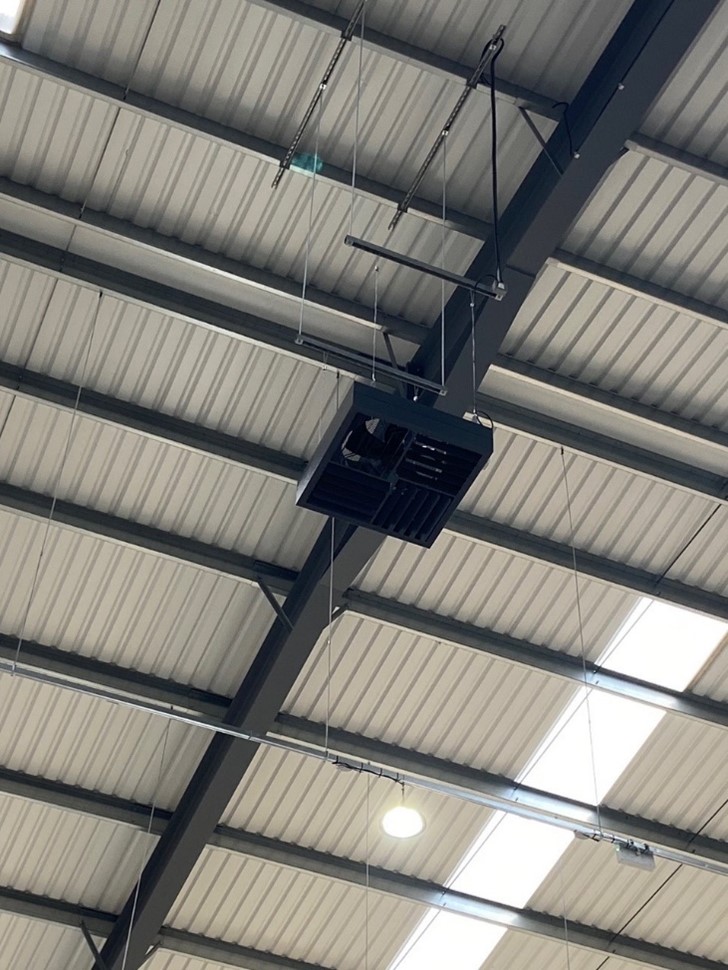 The project was handled by the Chillaire project team with Jas Thandi leading the team and co-ordinating with Brennan Industries Managing Director – Bradley Edmonds.

Brennan Industries are a specialist supplier of hydraulic and pneumatic fittings. They have been around since 1953, Brennan Industries has provided companies / business throughout the world with the highest-quality, critical flow components.
What's changed over the years is the number of products they now offer and the ways they get those products into the hands of their customers. Brennan Industries have expanded offering 120,000 different styles plus sizes and grown their distribution to meet the demands of their customers.
All Brennan fittings are manufactured to the highest standards, meeting or exceeding J.I.C./S.A.E. and international specifications. They control their own manufacturing both domestically and overseas, so if you're in need of a custom solution the engineering team can help with anything from altering a standard to developing a prototype. This also means controlled quality, as an ISO 9001:2015, AS9100D and NADCAP certified company, Brennan Industries adheres to the most stringent quality control practices, assuring exceptional products.
The design and durability of each fitting assure long-lasting service, even in corrosive and abusive environments. To prove their superior quality, we back up every fitting with product traceability. Find us at www.brennaninc.co.uk
Call Chillaire Group today to help you with your Commercial or Industrial gas heating requirement.
For gas fired heater and boiler appliance requirements contact Chillaire Limited for a free survey and no obligation quotations. Contact our heating call centres at Coventry, West Midlands, Leicester, Leicestershire or Northampton, Northamptonshire.
Coventry Commercial & Industrial Heating Centre: Chillaire Limited, 16 Lythalls Lane, Coventry, West Midlands, CV6 6FG / Tel: 024 7624 9440 or email sales@chillaire.co.uk and you can visit our website for further details: www.chillaire.co.uk
Northampton Commercial & Industrial Heating Centre: Chillaire Limited, Moulton Park Business Centre, Redhouse Road, Moulton Park, Northamptonshire, NN3 6AQ – Tel: 01604 269540 or email sales@chillaire.co.uk and you can visit our website for further details: www.chillaire.co.uk
Local Chillaire Industrial / Commercial Heating Centres: Rugby: 01788 669164 / Leamington Spa & Warwick: 01926 825681 / Stratford upon Avon: 01789 273289 / Banbury: 01295 207682 / Redditch: 01527 531275 and Leicester: 0116 202 5094
Other Local Offices:
Chillaire Ltd: Unit 1 Veasey Close, Attleborough, Nuneaton, Warwickshire, CV11 6RT – Tel: 024 7632 0300
Chillaire Ltd: 10A Silver Street, Kettering, Northants, NN16 0BN – Tel: 01536 384046
Chillaire Ltd: 3rd Floor, St George's House, 6 St George's Ways, Leicester, Leicestershire, LE1 1QZ – Tel: 0116 202 5094
Chillaire Ltd: Minerva Innovation Centre, Station Road, Alcester, Warwickshire, B49 5ET – Tel: 01789 273289
Email Addresses: sales@chilalire.co.uk / service@chillaire.co.uk Website: www.chillaire.co.uk