VRF Heat Pump Systems for Business Premises
VRF heat pump systems are an increasingly popular option for business premises of all shapes and sizes.
Because no two business premises are the same, specifying a heating system needs to be carefully considered to deliver the best possible comfort and energy efficiency.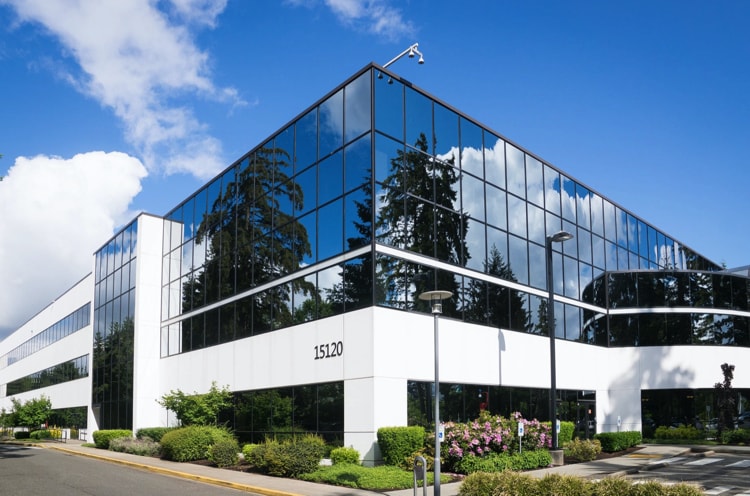 Size, heat loss, hours of operation and other building management systems will all be important.
Depending on your type of business you might use different zones, rooms and communal spaces at different times of the day, each with specific heating or cooling requirements.
The benefits of VRF heat pump systems
Variable Refrigerant Flow (VRF) equipment is compact, making it ideal for smaller spaces, and a large area to house your heating and cooling equipment won't be needed. VRF systems effectively keep your business premises comfortable while using significantly less energy, helping you to keep operating costs down.
A VRF system can identify the requirements for each zone of your building to deliver precise amounts of refrigerant to each air handling unit, eliminating troublesome cold or hot spots. They provide more consistent comfort within your office building or commercial space, ensuring you have happier, healthier, and more productive employees.
VRF heat pumps
VRF systems can serve multiple zones in your building, responding to differing heating and cooling requirements.
In contrast to conventional air or water HVAC systems, VRF systems manage the amount of refrigerant sent to each zone according to your settings and outside conditions. They will efficiently deliver refrigerant in exact amounts where it is needed.
Multiple indoor units can operate at the same time in heating or cooling modes while connected to a single outdoor unit. Ductless heat pumps (DHP) units can be integrated into a larger VRF system.
Types of VRF system
There are two system formats; two-pipe and three-pipe systems. In two-pipe systems all the zones will be either cooling or heating. When the indoor units are in cooling mode, they act as evaporators; when they are in the heating mode, they act as condensers.
Alternatively, VRF systems with heat recovery (VRF-HR) use a three-pipe design so that some zones can be cooled while others are heated. This allows surplus heat within the system to be used, rather than being wasted. While the initial costs of three-pipe systems are higher, thermal control across building zones and overall efficiency are improved.
How VRF systems work
Daikin developed variable refrigerant technology, known as variable refrigerant volume (VRV), in the 1980s. The approach automatically adapts refrigerant temperature to provide the most comfortable conditions, increasing seasonal efficiency by up to 28%, compared to other solutions. Other systems based on this approach are commonly known as VRF.
The refrigerant flows through pipes between an outdoor unit and indoor units that condition and recirculate indoor air. Variable speed fans modulate the indoor and outdoor units. Heat recovery between zones reuses energy efficiently for heating, cooling, and hot water.
Smaller sized systems are available for residential and small commercial buildings, while large configurations of up to several hundred tons can be installed for high-rise buildings. They can include sophisticated controls for demand response, operations, and maintenance alerts.
Energy savings
Compared with conventional air-to-air heat pumps, advanced variable-speed heat pump systems can typically provide energy savings of 20% and can adjust to seasonal conditions to improve efficiency further. They offer better efficiencies, heat recovery, and can reduce or eliminate duct losses.
Because VRF systems are designed to supply the precise amount of refrigerant to each air handler they minimise energy waste. The system runs less frequently and at a lower capacity, while still maintaining comfortable temperatures. Because VRF systems can also capture heat as part of the cooling process, this can be reused in other parts of your building to save energy.
Chillaire – a national heating, ventilation and air conditioning partner
Centrally located in Nuneaton, and with offices around the UK, Chillaire is a trusted partner for design, installation and maintenance of heating, ventilation and air conditioning systems.
You can contract us through our website www.chillaire.co.uk or email us at sales@chillaire.co.uk.
You can call any one of our local offices:
Nuneaton & Warwickshire Office: Unit 1 Veasey Close, Attleborough Fields Industrial Estate, Nuneaton, CV11 6RT. Telephone: 024 7632 0300
Coventry & West Midlands Office: 16 Lythalls Lane, Holbrooks, Coventry, West Midlands, CV6 6FG. Telephone: 024 7624 9440
Leicester & Leicestershire Office: 3rd Floor, St George's House, 6 St George's Way, Leicester, Leicestershire, LE1 1QZ. Telephone: 0116 202 5094
Redditch & Alcester & Worcestershire Office: Minerva Mill Innovation Centre, Station Road, Alcester, Warwickshire, B49 5EH. Telephone: 01527 531275
Northampton & Northamptonshire Office: Moulton Park Business Centre, Redhouse Road, Moulton Park, Northamptonshire, NN3 6AQ. Telephone: 01604 269540
Kettering, Corby & Northants Area Office: 10A Silver Street, Kettering, Northants, NN16 0BN. Telephone: 01536 386046