Powrmatic LNVx
Powrmatic LNVx has now been launched! This is a suspended warm air heater which combines form, function and ErP compliance to create Powrmatic's most advanced unit heater to date. Building on the popular features of the successful NVx range, the LNVx meets new NOx criteria as well as the minimum seasonal efficiencies that are now required, whilst also incorporating a number of new features designed to make the installation more easy for companies such as us Chillaire Ltd.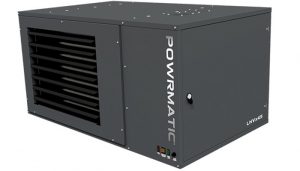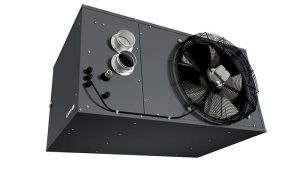 The new Powrmatic LNVx gas fired heater models are available in high-fire outputs from 14.5kW to 137kW (low fire from 8.6-93.3kW), the optimised design of the units makes it easy for specifiers and installers to match outputs and airflow characteristics to a wide variety of applications.
Multi in-shot burners are matched to each robust tube assembly all manifolds linked to a common gas valve and ignition system and complete with flame monitoring and safety controls. Natural gas burners are supplied as standard, with LPG as an option.
More Powrmatic Gas Heater Features
Another new feature provided is the 'plug & play' control panel, which enables any installer quick and trouble-free wiring connections on site. The new designed internal hinged, swing out control panel also allows quick and simple access to the burner compartment during installation and servicing.
Models available include axial fan crossflow, down flow and bi-directional units, as well as centrifugal close-coupled fan units and ducted no-fan units. Low noise levels are assured by the use of anti-vibration mounts as standard on the axial fans.
The Powrmatic LNVx shell has been re-designed with more folds to increase strength throughout. LNVx models also feature a more compact design than their predecessors, allowing for installation in smaller spaces if required.
For gas fired heater requirements contact Chillaire Limited for a free survey and no obligation quotations. Contact our heating call centres at Coventry, West Midlands, Leicester, Leicestershire or Northampton, Northamptonshire.
Coventry Industrial Heating Centre: Chillaire Limited, 16 Lythalls Lane, Coventry, West Midlands, CV6 6FG / Tel: 024 7624 9440 or email sales@chillaire.co.uk and you can visit our website for further details: www.chillaire.co.uk