Powrmatic / Combat / Winterwarm – Gas Fired Warm Air Heating
Why Gas Fired Warm Air Heating for Commercial or Industrial Environments?
Gas fired warm air heating is a cost effective way of heating large spaces such warehouses or distributions centres or showrooms or similar.
The latest gas fired heaters manufactured by Combat / Winterwarm or Powrmatic are modern energy efficient and highly reliable and ideal for commercial / industrial premises and work by forcing warm air around the building. These heaters are most often used in commercial properties and public spaces such as retail outlets, sports halls, distribution centres, warehouse storage facilities, production areas and sports halls and are known to improve energy efficiency when compared to other systems. Additional installation costs are easily absorbed by long-term savings.
Why Use Warm Air Heating Systems?
Warm air heating works by pulling cold air from the building and pushing it across a heat exchanger. The cold air is heated via the fan and re-distributed back into the environment until an ambient temperature is achieved. There are a wide variety of fuels to choose from, such as natural gas, LPG, oil, and biofuels, to operate the system. By combining warm air heating with a sophisticated control system, businesses can easily manage the temperature without overheating or getting too cold.
Warm air heating systems can include roof suspended and floor standing cabinet units, making them an extremely versatile choice for industrial and commercial premises.
Powrmatic and Winterwarm have a unique range of gas fired heater range:
Powrmatic recently introduced its new LNVX energy efficient heater range.
Winterwarm has the XR range with stainless steel heat exchangers.
The Combat Compact range is ideal for smaller buildings that may require less heating, particularly when space is at a minimum. Alternatively, for improved energy efficiency, you may want to consider the Combat ECO Condensing Unit Heaters, which are one of the smallest condensing heaters on the market at present.
Why Combat Heating Solutions?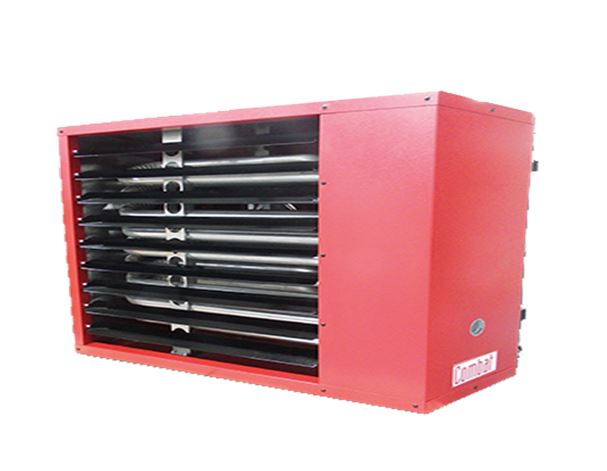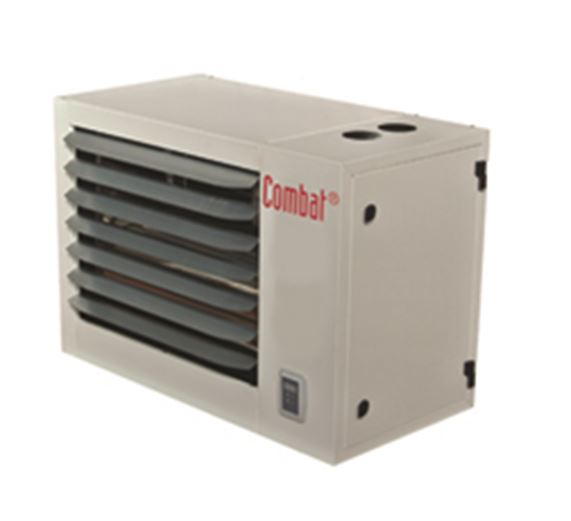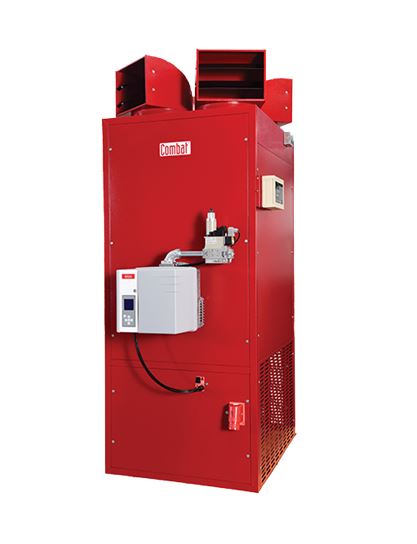 Combat have been manufacturing heating products for over 40 years and have an extensive knowledge of the commercial and industrial heating sector providing help to find solutions. Combat have a wide range of heating appliances for most applications.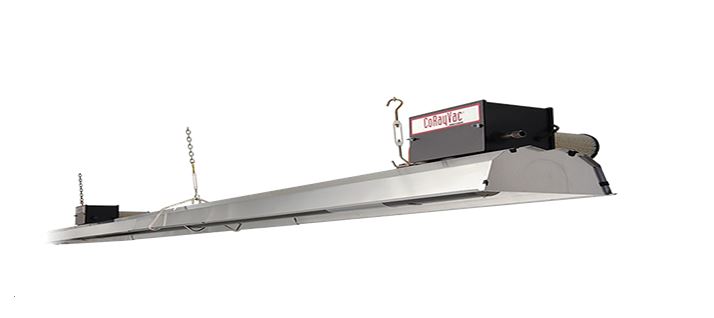 What is Radiant Heating?
Radiant heating is a cost-effective, reliable method of heating small to very large indoor areas that require a more even spread of heat. The best way to simply describe how infrared radiant heaters work is to compare it to the most reliable known heater – the Sun. The heat energy from the Sun radiates through space and our atmosphere, striking the Earth's surface and heating it. It is this warmed surface that then heats the air and raises the air temperature.
Due to the versatility of radiant heaters, they are utilised for large spaces such as factory and warehouse heating.
Why Radiant Heaters?
Radiant heating, unlike fan assisted warm air heaters, does not heat the air. It first heats the people and the objects around it, including the floor, which in turn act as secondary heaters, raising the air temperature. The main benefit of radiant heating is the reduced loss of heated air in areas with opening doors and windows.
Unlike warm air heaters which use excessive energy to heat the building's atmosphere, once a door has been opened, objects heated by radiant heating will continue to stay warm. For industrial and commercial buildings such as distribution centres or warehouses that often have large doors open to cater for deliveries, radiant heating is the most cost-effective solution for maintaining suitable working temperatures.
Combat Energy Saving Accessories
Combat Heating Solutions understands the importance of energy efficiency in the workplace. Reliable heating systems that can be automatically controlled while reducing energy consumption, is essential for most business owners and landlords. Industrial heating systems work in some of the toughest conditions and are required to adapt quickly to changing circumstances.
That's why to provide energy saving Combat controls and destratification fans complement their new industrial heater range. Combat energy-saving destratification fans improve the efficiency of the heater by keeping valuable warm air down at working level, thus reducing heat loss through the roof structure. The Energy Efficient NRG Controller maximises fuel efficiency through self-learning optimisation, which could save you money on your energy bills.
Call Chillaire Limited today to assist you with your commercial or industrial heating environment or application requirement. From initial site survey, design, supply, installation, warranty and future planned maintenance with 24 hour service.
Local Chillaire Industrial / Commercial Heating Centres: Rugby: 01788 669164 / Leamington Spa & Warwick: 01926 825681 / Stratford upon Avon: 01789 273289 / Banbury: 01295 207682 / Redditch: 01527 531275 and Leicester: 0116 202 5094
Other Local Offices:
We have offices throughout central England:
Email Address: sales@chillaire.co.uk / service@chillaire.co.uk Website: www.chillaire.co.uk