Powrmatic LNVX Gas Heater Installation at Richardson Racing
We supplied and installed a new Powrmatic LNVX90F roof suspended gas fired heater in Corby Richardson Racing in their workshop where the racing cars are brought back for service & repair after racing events. Heating was required for the workshop to provide comfortable working conditions for the Richardson Racing team staff.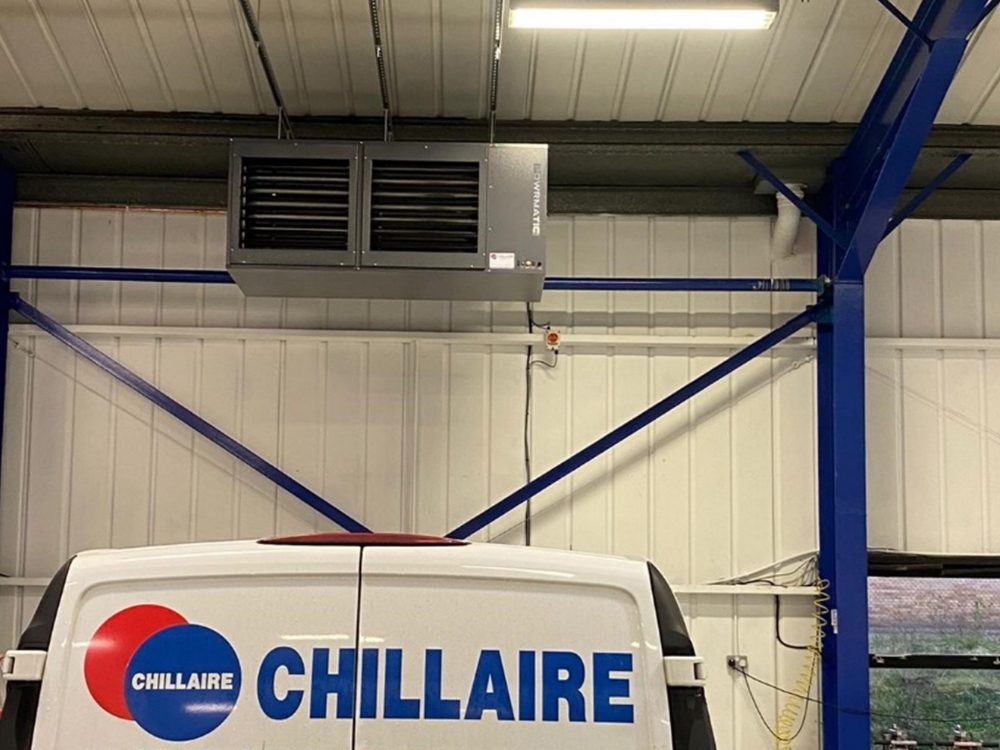 We required heating in our workshop so that the staff could work in a warm environment. Chillaire Limited designed and installed Powrmatic gas heaters in the workshop and we were very impressed with their professionalism and the equipment used, which is both energy and cost efficient. From their initial site visit to installation and commissioning, the workers remained friendly and answered any questions we had. They did a full key turn project and we would definitely recommended their services.
Richard Racing Management
The workshop is also used for development of new racing cars and upgrades of mechanical engineering and bodywork styling.
Chillaire selected an energy efficient gas heater from the new Powrmatic LNVX range to provide 90 kW heating at full capacity with the option to provide reduced heating capacity of 65 kW on milder days hence lower gas consumption with energy saving + cost saving.
The heater was installed with a horizontal flue so no need to cut holes through the roof and having to weather seal afterward.
A new Powrmatic MCV 200 controller was installed to provide control of the heater.
Richardson Racing is based at Earlstrees Industrial Estate in Corny and is a family run professional racing team with a background of top-level karting all the way through to British F4, Ginetta GT4 and Porsche Carrera Cup winning success. From top level British Championship karting roots, the team moved to competing in the highly competitive Ginetta, F4 and Porsche Championships, quickly proving themselves to be an all-round winning team with proven record of success in GT4 SuperCup Team Championship, GT4 SuperCup Driver Championship, Ginetta Challenge Vice-Champion and with Louise Richardson gaining a Championship 3rd place in Ginetta Juniors, the team spread their base to encompass single seaters, competing in British Formula Ford. Again, they proved themselves in this category, gaining numerous podiums and class wins in both British Formula Ford and, since 2015, in British F4.
Call Chillaire Group today to help you with your Commercial or Industrial gas heating requirement.
For gas fired heater and boiler appliance requirements contact Chillaire Limited for a free survey and no obligation quotations.