Air Conditioning Consultants in Coventry
Air conditioning consultancy services from Chillaire can be as simple as quick advice over the telephone, by email or post. However, in most cases our air conditioning experts will undertake a full consultation in person. This gives us the opportunity to discuss, assess and fully understand your requirements, whether this is simply for air conditioning advice or the design, planning and installation of heating, ventilation, humidification or any other related products or services. Our air conditioning consultants can advise you on the best solution for you,  forwarding you a written proposal with all relevant brochures and equipment data sheets.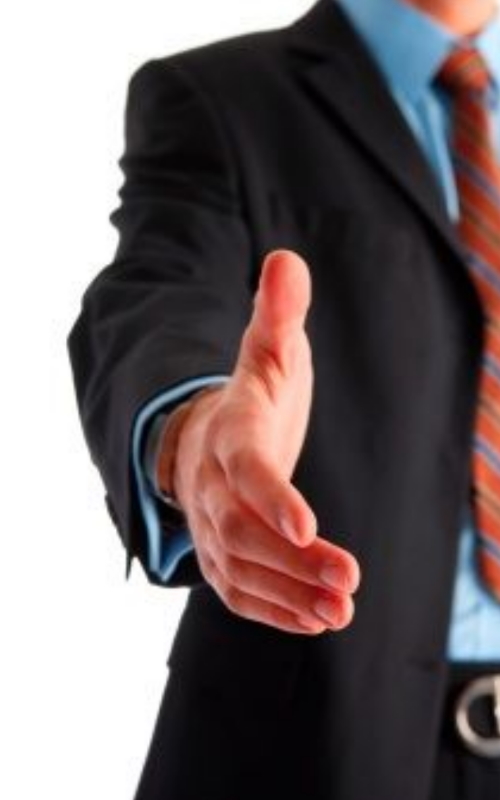 HVAC Consultants in Coventry
Our HVAC consultants in Coventry and throughout the Midlands are friendly and extremely professional. They have vast knowledge about the wide range of air conditioning products and services we offer.  They also have access to a network of distributers and manufacturers, with whom we have developed strong relationships over the past 18 years.
Our HVAC consulting engineers will develop a full understanding of your requirements. They will carry out a full site survey of your premises and, depending on the size or complexity of your air conditioning project, this could involve several visits. If needed, some of our associated tradesmen including building contractors, electricians, crane hire or steel structural engineers will join our own air conditioning specialists. We can then normally offer a full turn-key project. Our subcontracting companies are always reputable, certified and qualified professionals who we have been dealing with for some years.
Expert HVAC Consulting Engineers
Our sales and design engineers are fully conversant with the latest energy efficient technology and we always endeavour to offer you the most energy efficient systems.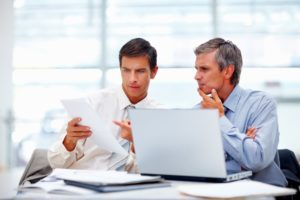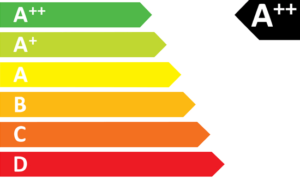 Air Conditioning 
● 
Heating 
● 
Ventilation
Criteria for determining your air conditioning requirements
Creating the right climate is a complex matter. Several factors determine which equipment is the best solution for you.
Be sure to be guided by an installer. Here are some things to keep in mind.
To what extent do you want to control the indoor climate?
Do you want cooling only? Or do you also want ventilation and/or heating? The choice will determine the type of system.
How many rooms or areas?
The number of rooms will determine the system. In case of more than one room it is possible to connect several indoor units to one outdoor unit.
Which kind of room or area(s)?
A shop, An office, A Restaurant, A warehouse or factory, A bedroom or living room? Each application requires its own system.
Capacity?
A system with too high capacity or delivered from too few locations, will lead to draught, fluctuating temperatures and high energy bills. With a too low capacity you will never reach the desired temperature. Choosing the right capacity is mainly having an installer calculate the capacity need. They will take into account the influences on the capacity required including solar infiltration, lighting, number of occupants, etc.
Place of the outdoor unit?
The outdoor unit should be in an appropriate place, on a solid base and accessible for maintenance and to respect the aesthetics of your building.
Place of the indoor unit?
The choice of the model will be determined by the possibilities to place the unit. Is there a false ceiling? Is there free space on the wall? Etc. Also the location of the unit is of great importance. Each unit has its own air distribution pattern. A poorly considered location may lead to excessive draught and higher unnecessary noise level.
Weather durability?
We must be aware of the weather durability of the outdoor unit. This will determine the lifetime of the installation.
Air purification?
The dust particles entrained in the air can be removed by means of filters in the indoor units. Depending on the level of filtration in the system, we can offer various levels of filtration.
Choosing the right type of air conditioning system
The size of the room or area, it's shape and use will dictate what type of system best suits your requirement. For a single office, a heat pump energy efficient inverter wall or ceiling mounted single split system would usually be ideal, which would consist of one indoor unit linked to one outdoor unit. For a larger number of offices or a large area a VRV or VRF type multi system would be more beneficial, this consists of a large number of indoor units linked to one common outdoor unit, you can have individual control of individual offices. The VRV or VRF systems are also energy efficient heat pump systems.
For large warehouses or factory areas, conventional gas fired warm air units (floor or ceiling suspended) or radiant tube heaters would be more cost effective to operate.
In some cases a combination of the two may be more beneficial, a central roof top packaged unit to provide the cooling and ventilation with a boiler and radiator system to provide the heating for a large office block.
Heat pumps are air conditioners which can be used both for cooling and heating. The principle is that it is able to reverse the process of transporting heat from one place to another.
Energy efficiency?
Moreover heat pumps, particularly those that are inverter controlled are much more energy efficient than other heaters. The reason for this is simple: rather than burning a fuel, they rely upon the heat transfer efficiency of the refrigerant gas used, normally R410a, with a co-efficient of performances (COP) of up to 6:1 now available. Because of this heat pumps are up to six times more energy efficient than other heaters.
Heat pumps additionally allow the refrigerant cycle to be reversed. A heat pump extracts energy from the outdoor and transfers the heat indoors. This principle even continues to function on very cold days with temperatures down to -5°C, -10°C or -15°C, depending on the type of air conditioning system used.
Therefore, heat pumps eliminate the need for a heating system and allow you to cool and heat with the same unit, with savings in costs and energy throughout the year.
The principle of air conditioning always comes down to the same:
absorb energy in one place and release it in another place
The process requires an indoor unit, an outdoor unit and copper piping to connect both. Through the piping the refrigerant flows from one unit to another. It is the refrigerant that absorbs the energy in one unit and releases it in the other.
Cooling Mode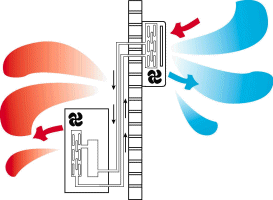 Heating Mode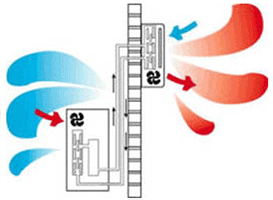 1 Indoor unit
A fan blows the hot indoor air over a heat exchanging coil through which cold refrigerant flows. The cold refrigerant absorbs the heat from the air and cooled air is blown into the room.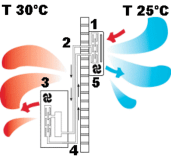 2 Copper piping
The refrigerant circulates through the units and the piping and takes the heat from the indoor unit to the outdoor unit.
3 Outdoor unit
Through compression, the refrigerant gas is heated and its boiling point increases. In the outdoor unit the obtained heat throught compression is released to the outdoor air by means of a fan which blows the outdoor air over a heat exchanging coil.
4 Refrigerant
The liquid refrigerant flows back to the indoor unit.
5 Indoor unit
Back in the indoor unit, the refrigerant is decompressed and thus enabled to extract heat form the indoor air.