Warwickshire Hospital Daikin Air Conditioning and Daikin VAM Heat Recovery Ventilation installation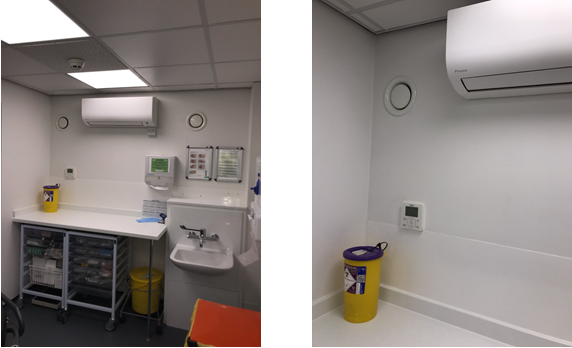 Chillaire Limited supplied and installed Daikin FTX-KV / RX model range wall mounted heat pump air conditioning split systems and Daikin VAM heat recovery ventilation system into consulting rooms at the Nuffield hospital in the Leamington Spa & Warwick area.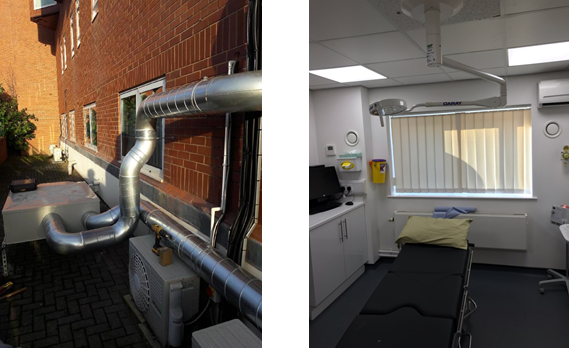 The Daikin FTX-KV / Rx wall heat pump air conditioning system has been installed to provide the cooling and heating combined with a VAM heat recovery unit installation to provide constant ventilation with selected air changes per hour with up to 70% to 80% heat recovery.
The Daikin VAM & VKM units are ventilation systems with heat recovery as standard with ability to provide Energy Saving ventilation using indoor heating, cooling and moisture.
The Daikin VAM / VKM Heat Recovery systems are ideal solutions for hospital consulting rooms, low specification laboratories, shops, restaurants or offices requiring maximum floor space.
Free cooling is possible when the outdoor temperature is below the indoor temperature, for example during night time. Reduced energy consumption thanks to specially developed DC fan motor prevent energy losses from over-ventilation while maintaining indoor air quality with an optional CO2 sensor, if required.
The Daikin VAM units can be used as standalone units or integrated in with the Daikin VRV systems and are available with a wide range of units with airflow rates from 150 up to 2,000 m³/h. High efficiency filters are available in F6 ,F7, F8 grades.
Shorter installation time thanks to easy adjustment of nominal air flow rate, so less need for dampers compared with traditional installations. Specially developed heat exchange element with high Efficiency Paper (HEP).
Total solution for fresh air with Daikin VAM / VKM HRV units also available with top up or back up electrical heaters.
Chillaire Limited carried out the initial site survey of the consulting rooms at the Leamington Spa & Warwick hospital, then designing, supplying and installing the Daikin systems during December 2018.
This project was carried out by Chillaire Limited from their Coventry office, 16 Lythalls Lane, Holbrooks, Coventry, CV6 6FG for further details you can call us on 024 7624 9440 or email us at sales@chillaire.co.uk also you can visit our website: www.chillaire.co.uk
You can also contact us by calling our phone number for Leamington Spa & Warwick on 01926 825681.
For Stratford upon Avon or for the Warwickshire area call us on 01789 273289.