Romford Mazda – Daikin Heat pump Air conditioning Installation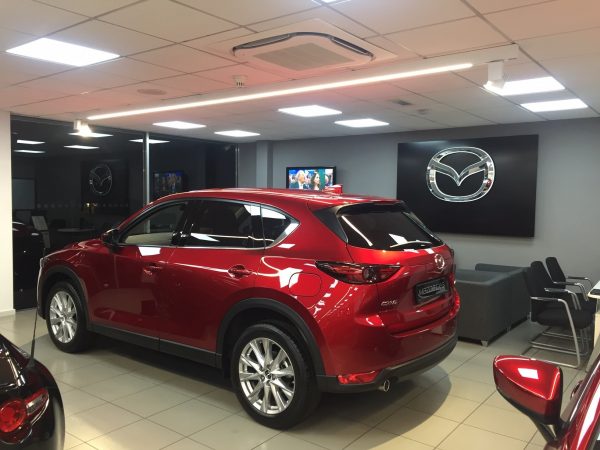 Romford Mazda is a Mazda Car Dealership that was established in 1992 and is passionately committed to ensuring each customer enjoys a motoring experience that surpasses their expectations. We have a mentality that focuses on our customers and tries to satisfy their needs, whether you are looking for a new or used Mazda, servicing, bodywork or MOT.
Romford Mazda covers all of Essex and is conveniently located on Collier Row Lane, Romford. We are close to the M25 and cover surrounding areas of Brentwood, Ilford, Stratford, East London, West London, South London and North London.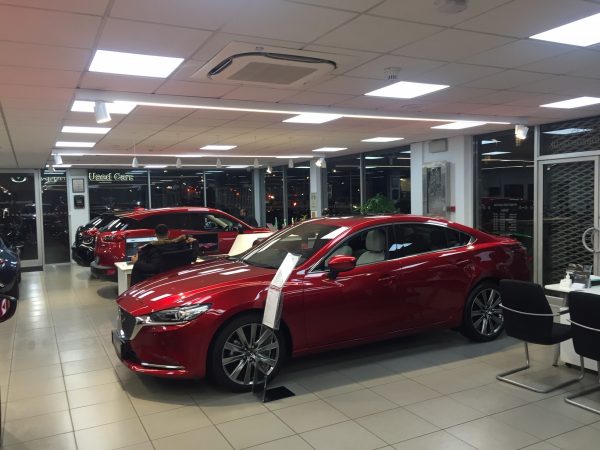 Chillaire installed the system in 2017 and were involved in designing, supplying and installing the Air Conditioning System. They have looked after the air-conditioning requirements at the site and have always been sensitive to fact that their work is carried out in a working environment that is used by our customers.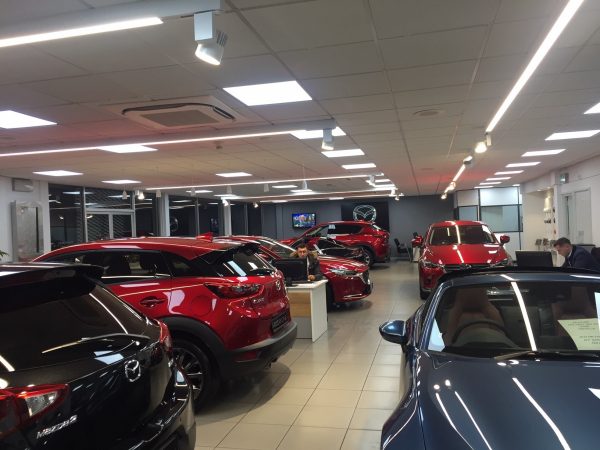 After the Daikin heat pump air conditioning systems were installed, Chillaire Limited have been providing excellent after care through a service agreement, the first year was provided free of charge with two service visits per annum.
After operating for 12 months during the summer providing cooling and during the winter providing heating the Daikin systems are still operating as when they were first installed over 12 months ago.
Chillaire understand the values and aspirations of the business perfectly. They approach their role proactively and are dedicated people who enjoy the everyday challenges of the showroom environment. This is an essential requirement to deliver the aspirations of both the business and our customers in the most demanding of environments and for the most discerning of clients.
Thank you
Amarjit Shokar
Managing Director
For details regarding the Daikin Heat Pump air Conditioning Systems please contact us:
Coventry Air Conditioning Centre
Chillaire Limited
16 Lythalls Lane
Coventry
West Midlands
CV6 6FG
Tel: 024 7624 9440 or email sales@chillaire.co.uk
You can visit our website for further details: www.chillaire.co.uk
Northampton Air Conditioning Centre
Chillaire Limited
Moulton Park Business Centre
Redhouse Road
Moulton Park
Northamptonshire
NN3 6AQ
Tel: 01604 269540 or email sales@chillaire.co.uk
You can visit our website for further details: www.chillaire.co.uk
Local Centres:
Milton Keynes: 01908 483585 / Kettering: 01536 384046 / Rugby: 01788 669164 / Leamington Spa & Warwick: 01926 825681 / Stratford upon Avon: 01789 273289 / Banbury: 01295 207682 / Redditch: 01527 531275 / Derby: 01332 561729 and Leicester: 0116 202 5094