Air Purifiers
Air conditioning and Air purifiers are two different systems which cater for different needs. Whilst air conditioning works to produce cool air at an effective rate, air purifiers central purpose is to improve the quality of air in an environment. However, innovative companies like Panasonic and Daikin are rapidly developing their technology to offer products that are of high quality and even have multiple purposes.
Panasonic nanoe™ X Technology
Panasonic has been continuously developing their technology in order to provide products to help improve people's health and lifestyles. Due to Covid-19 and the general interest in living a cleaner and healthier life, it's been necessary for brands, such as Panasonic, to make advanced products that contribute to consumers' health conscious lifestyles. Thus, Panasonic have taken a naturally occurring process in the form of Hydroxyl radicals and adapted them to help create cleaner indoor environments.
Hydroxyl radicals are molecules that actively combine with other elements to cause a reaction, preventing the growth of contaminants by breaking them down and reducing their negative effects. Panasonic's nanoe™ X technology has altered this process by adding the Hydroxyl radicals to water to increase its efficiency and lifespan. Not only will the air be safer to breathe, but indoor environments containing furnishings will be cleaned, with the particles being small enough to penetrate through fabric. Panasonic incorporated this technology into purifying devices and other applications, even air conditioning for residential and commercial spaces.
Developed in 2004, Streamer technology is just one of the highly innovative technological advancements Daikin has developed to provide quality products and services for consumers. Recently, they found that the effectiveness of the streamer technology inactivated more than 99.9% of Novel Coronavirus (SARS-CoV-2). However, further testing may be required as results may differ in actual use in real-life environments or with equipment that incorporates Streamer technology.
Daikin's MC55W Streamer Technology Air Purifier
The MC55W Streamer technology air purifier features their patented streamer technology which has many advantageous benefits for this current climate.
The air purifier is fitted with a flash streamer which utilises electrons that combine with one another in order to break down and filter out airborne contaminants. This product is designed to reduce allergy symptoms, which includes dust, odours, pollen, bacteria etc. which can be unsafe and potentially detrimental to one's health. This particular air purifier would be useful to have as the effects of any airborne allergens would be lowered, providing a more tolerable home or working environment.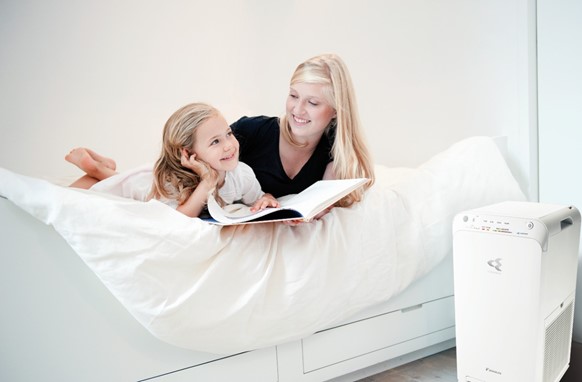 Chillaire Limited is an approved D1 dealer with Daikin UK and a registered supplier of Panasonic UK systems.
Call Chillaire Limited today to assist you with your commercial or industrial heating environment or application requirement. From initial site survey, design, supply, installation, warranty and future planned maintenance with 24 hour service.
Website: www.chillaire.co.uk
Email Address: sales@chillaire.co.uk / service@chillaire.co.uk
For more information, visit Daikin's website here.
For more information, visit Panasonic's website here.
References: