New Venue Air Conditioned by Chillaire Limited – Nadee Indian Restaurant and Banquet Hall in Findern, Derbyshire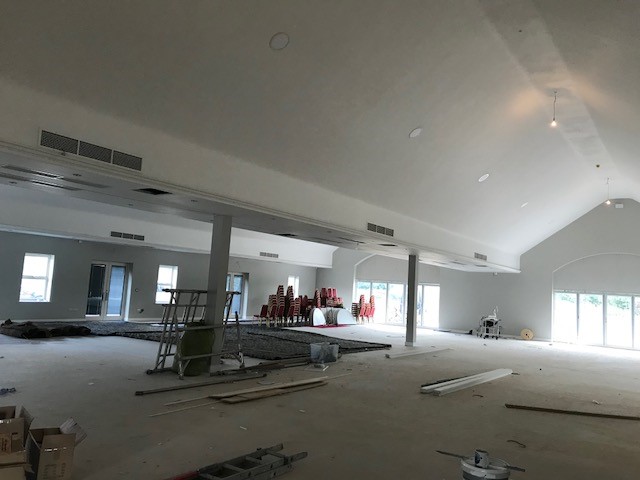 Chillaire Limited from Coventry supplied and installed direct expansion Inverter drive, energy efficient Mitsubishi Electric Heat Pump Air Conditioning (HPAC) systems consisting of twin and triple ducted multi split systems to serve three main halls at the new Nadee 550 seater banqueting hall at Findern, Derbyshire.
The new venue hall is situated behind the existing Nadee Indian Cuisine Restaurant which serves the finest indian food with bar area and outside canal side seating with countryside views. The venue is easily accessible from the A50 and A38 both which run past he venue and the M42 and M1 are both also within easy reach.
The new venue will be ideal for weddings and parties, the hall has been designed to be used as one large open space holding 550 max capacity or it can be segregated into 3x smaller halls for multiple venues to be held simultaneously. Each hall has been set up to have individual cooling and heating control.
Chillaire Limited designed, supplied and installed Mitsubishi Electric inverter drive model PUHZ-P heat pump twin / triple multi type heat pump air conditioning outdoor condensing units linked to multiple indoor model PEAD-P ducted indoor fan coil units.
We also installed two Mitsubishi Electric inverter drive model PUHZ-P HPAC multi outdoor condensing units linked to four model PKA-P indoor wall fan coil units to serve the reception / bar area.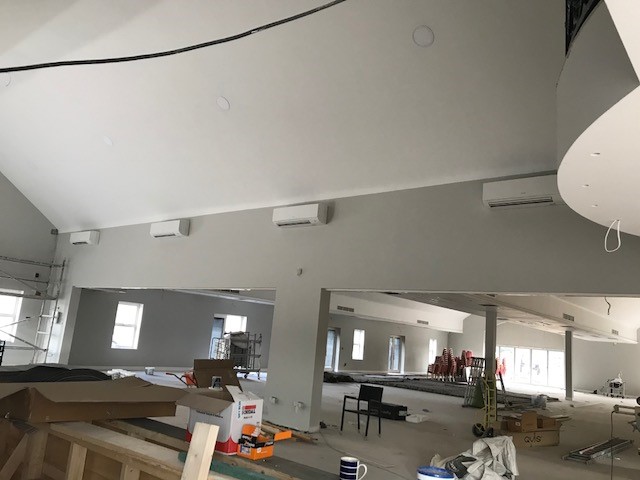 The Mitsubishi Electric heat pump air conditioning installation project took around 10 weeks to complete, the new venue hall building was a new build and Chillaire Limited worked alongside the building contractor to ensure that the finished installation was neat and tidy with no services visible all pipes, cables and rains were concealed within the new building construction from the indoor unit to the outdoor unit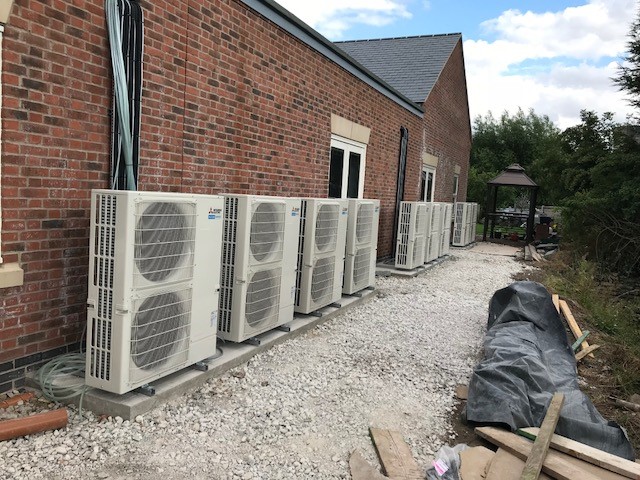 The indoor DX Mitsubishi Electric ducted indoor units were concealed within side bulkheads with just the linear supply air grilles and linear extract air grilles visible where each ducted fan coil unit has been positioned installed.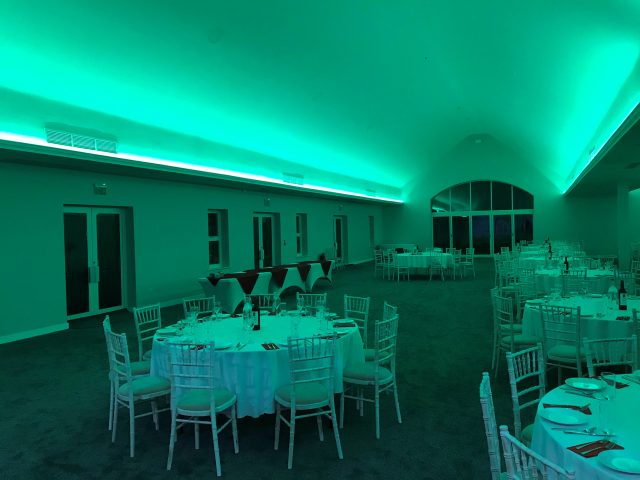 The heat pump air conditioning project was designed and installed by the Chillaire Limited project team supervised all the way through.
The four Mitsubishi Electric Heat Pump Air Conditioning PKA-P wall fan coil units were install at high level with all pipe work and cables concealed within the walls to give a flush clean final finish.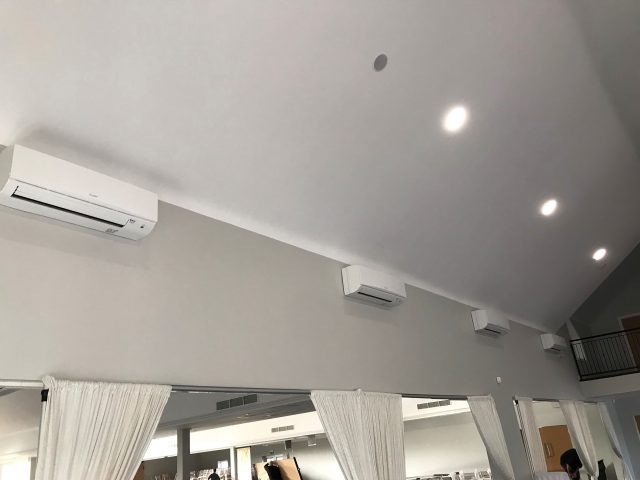 The condensate pumps were concealed into the wall with specially built hatches for access in emergencies.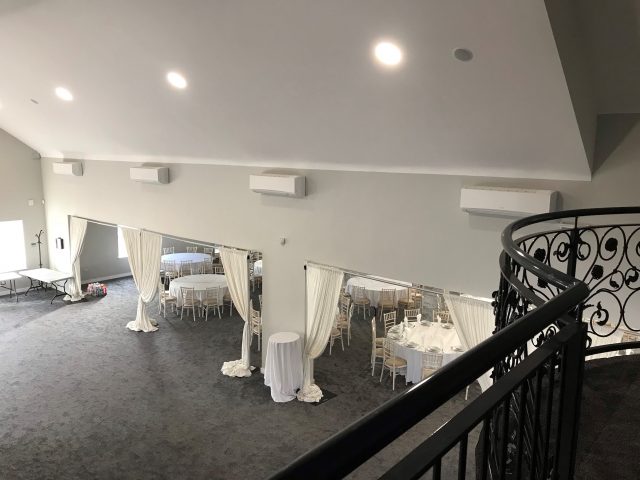 Below: the Mitsubishi Electric PUHZ-P Model High Capacity Inverter Driven Heat Pump Air conditioning Outdoor Multi Split Units which were positioned and installed on a purpose made concrete plinth.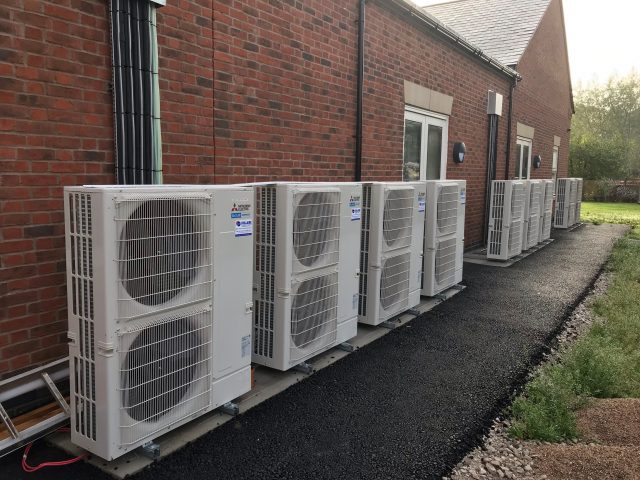 The Mitsubishi Electric equipment installed has the best Seasonal Energy Efficiency Rating (SEER) and Coefficient of Performance(COP) factor compared to other brands.
The new venue hall with a possible maximum seating capacity of 550 people, the new Mitsubishi Electric heat pump air conditioning system has been designed to provide ideal environmental conditions all year round with cooling in summer and heating winter.
In addition to the Mitsubishi heat pump air conditioning systems, Chillaire Limited also supplied and installed bar IMI Marstair bar cellar coolers.
Designed, supplied and installed by Chillaire Limited, the company Coventry office: 16 Lythalls Lane, Holbrooks, Coventry, CV6 6FG Tel: 024 7624 9440 / sales@chillaire.co.uk and visit our website: www.chillaire.co.uk
For booking information regarding the new venue email info@heathlandgrove.com for further details you can visit the venue website: www.heathlandgrove.com