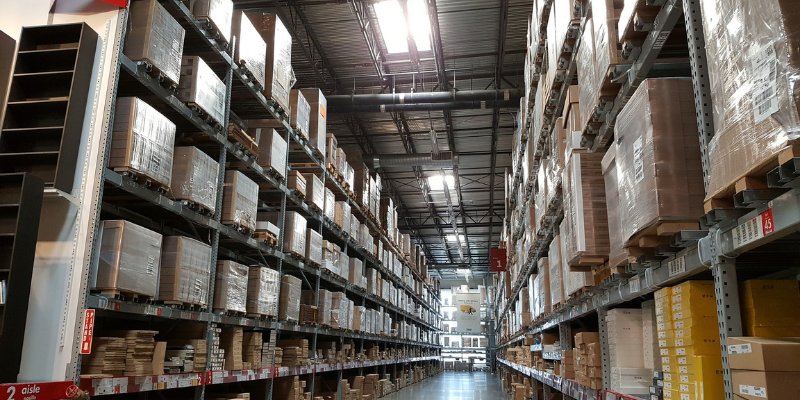 How To Heat A Warehouse: Everything You Need To Know
As winter approaches, considering methods to heat a warehouse is becoming increasingly important. Warehouses are comparable to greenhouses in that they exacerbate blazing heat in the summer and keep in the cold in the winter. For this reason, installing heating solutions in your warehouse is integral to ensure that your employees are comfortable as the temperature begins to drop. 
This article will tell you everything you need to know about warehouse heaters to prevent a cold warehouse and unhappy colleagues. 
What should you consider?
When attempting to heat a warehouse, the first thing to consider is the size of your space. Certain heating solutions, like radiators, will not efficiently heat your entire warehouse. By installing the incorrect type of heater, you may encounter poor heat distribution which will render it almost completely ineffective. Additionally to the practicality of the heater, running it consistently and not experiencing the desired results could have you wasting money. 
If you'd only like to heat certain parts of your warehouse, your options won't be as limited. To heat a warehouse in small sections can allow you to control the temperature of each zone and save more money than trying to heat the whole warehouse inefficiently. 
Secondly, the machinery installed in your warehouse will affect the type of heating you need. Machinery can be liable to overheat and act as warehouse heaters on their own. For this reason, it is important to consider the positioning of your heating systems when trying to heat a warehouse, so as not to place them too close to your machinery and have them overheat faster, and become a hazard. 
Thirdly, the number of storage racks in your warehouse will affect the distribution of heat throughout your warehouse. The seemingly endless metal bars that support your shelving can make it difficult for the heat to radiate as much as it ordinarily would.
What are the best ways to heat a warehouse?
One of the best ways to heat a warehouse is by installing a heat pump system.
Heat pump systems have plenty of advantageous benefits that can help you to efficiently heat your entire warehouse at once. They can use gas, electricity, or renewable energy to run, which can help to improve the cost efficiency of your system. This type of heater is incredibly versatile, allowing for underfloor heating, radiators, or warm air convectors depending on your needs.
Heat pump systems tend to fall into two categories, radiant heating, and warm air heating. These heating systems are beneficial in their ways and are ideal for heating a warehouse of any size. 
Radiant heating is more tolerant of heat loss through air changes than warm air heating, as rather than simply projecting airflow, radiant heating uses infrared radiation to fully heat a warehouse. If doors are opened for deliveries and shipments, the warm air will not gush out, it will remain inside the warehouse. 
Radiant heating or radiant heating is used to heat small specific target spaces in large areas such as large warehouses rather than the whole warehouse, for example in a large warehouse 90% may just be for storage and 10% is the work area such as a packing area this is the only part that require heating a radiant gas or electric heater is perfect for this type of application as radiant heaters are designed to heat objects rather than space or air. The objects in this case would be the surface or people under it or in front of a radiant heater. Warm air fan heaters are designed to heat the air or space in an area and the whole area.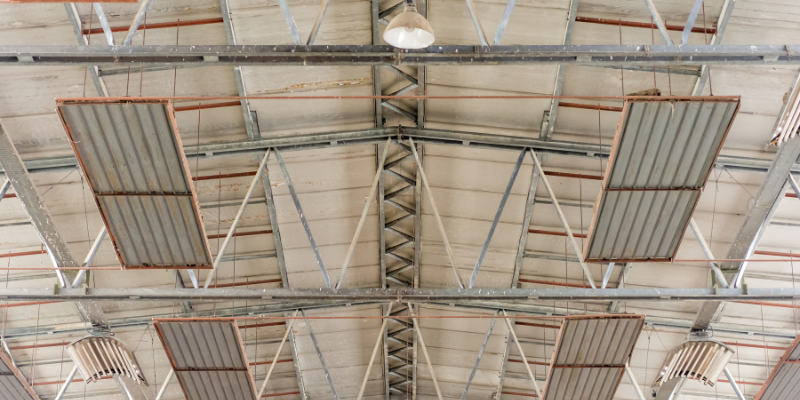 Warm air heating is used more often than radiant heating. It is incredibly effective and uses fans to disperse the warm air flow throughout the warehouse. The air is pulled into them through a heat exchanger which warms the air to the temperature you require. This method is a cost-effective solution to a cold warehouse. Their only disadvantage is that you may find cold spots developing in your warehouse if the warm air isn't dispersed uniformly.  
Gas heaters boast fantastic design versatility and are ideal to heat a warehouse. They are easy to maintain and operate and use far less energy to run than oil heaters, their alternative. They provide sufficient heating and are very reliable. So the chances of experiencing a sudden loss of heating are low, especially if you invest in a high-quality gas heater. As with any heater, they will need to be regularly serviced to ensure they continue to work efficiently and effectively.  
De-Stratification fans
De-stratification fans, as well as the heating solutions themselves, help heat a warehouse by forcing the warm air that has risen back to the floor. Warehouses are large spaces and frequently have very high ceilings, so it is important when considering warehouse heaters, to also think about the other appliances that could help to heat a warehouse. 
De-stratification fans aren't difficult to install and very efficiently recirculate warm air through a cold warehouse. Although not strictly warehouse heaters, they are similar to some extent. 
If you are having new heaters installed, you should always consider having destratification fans installed. They ensure that valuable heat is constantly forced downward to ground level from the heaters and they provide energy efficiency and overall better heat distribution, this is even more important  in large spaces and high roof buildings.
Heater controls
Although there is a choice of heaters available on the market that use different types of energy and generate varying costs, warehouse heaters aren't cheap. For this reason, it is advisable to purchase heater controls to individually control each heater and ensure that it is turned off when not in use, or running at a much lower temperature. These heater controls can be set to automatically turn on before work and turn off when the day is over, so that money isn't being wasted when nobody is in the facility.
Consult a trusted professional to install your system
There is nothing worse than spending large amounts of money on a service to discover that it has been completed incorrectly. This is why you should ensure to hire a trusted professional to install your warehouse heaters. 
Here at Chillaire, we employ only the most skilled and qualified technicians to work on our team. We have been trading since 1992 and value ourselves on providing the best possible services and highest-quality solutions to our customers. We specialize in heaters and air conditioning solutions in a range of sectors including industrial environments, commercial settings, and retail and leisure facilities. 
So, if you have a cold warehouse, contact us today to find out more about our services and enquire about our warehouse heaters!