Mitsubishi Electric Heat Pump Air Conditioning Installation in Derby
Guru Arjan Dev Ji Sikh Temple
Chillaire Ltd spent 4 weeks between January and February 2021 completing an air conditioning installation project at Guru Arjan Dev Ji Gurdwara (Sikh Temple) in Derby. The temple is a place of worship for many Sikhs in the local community and is open to anyone who is also not of Sikh faith.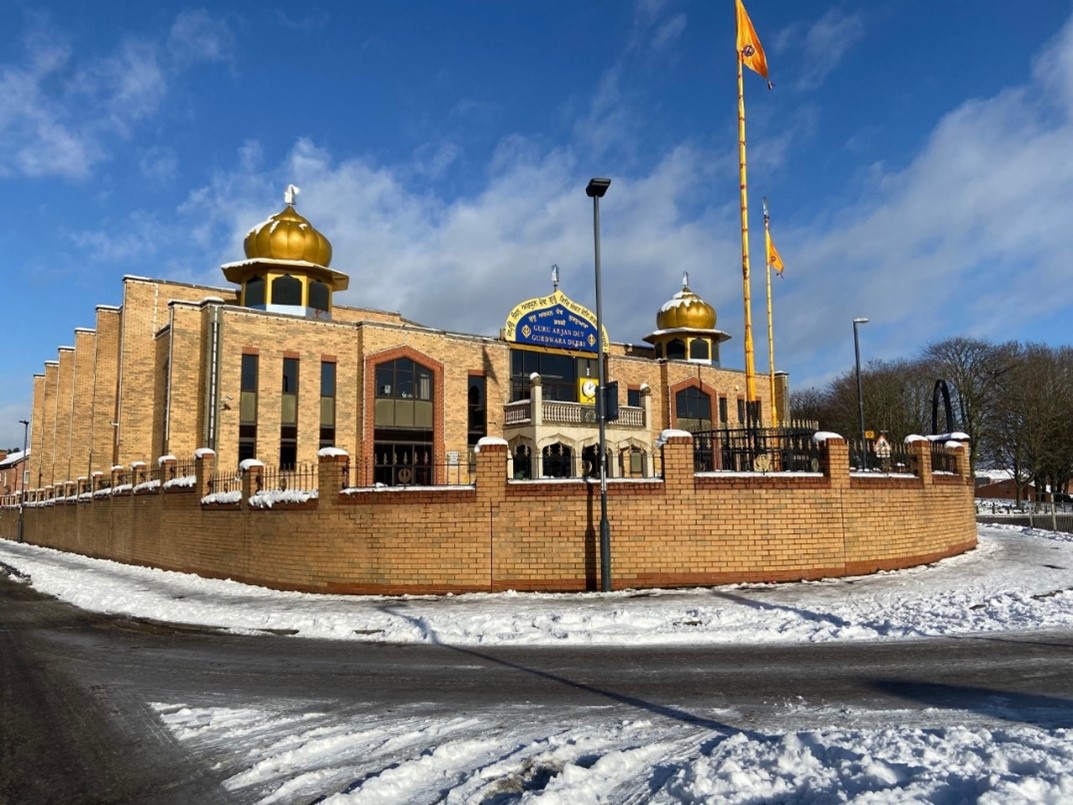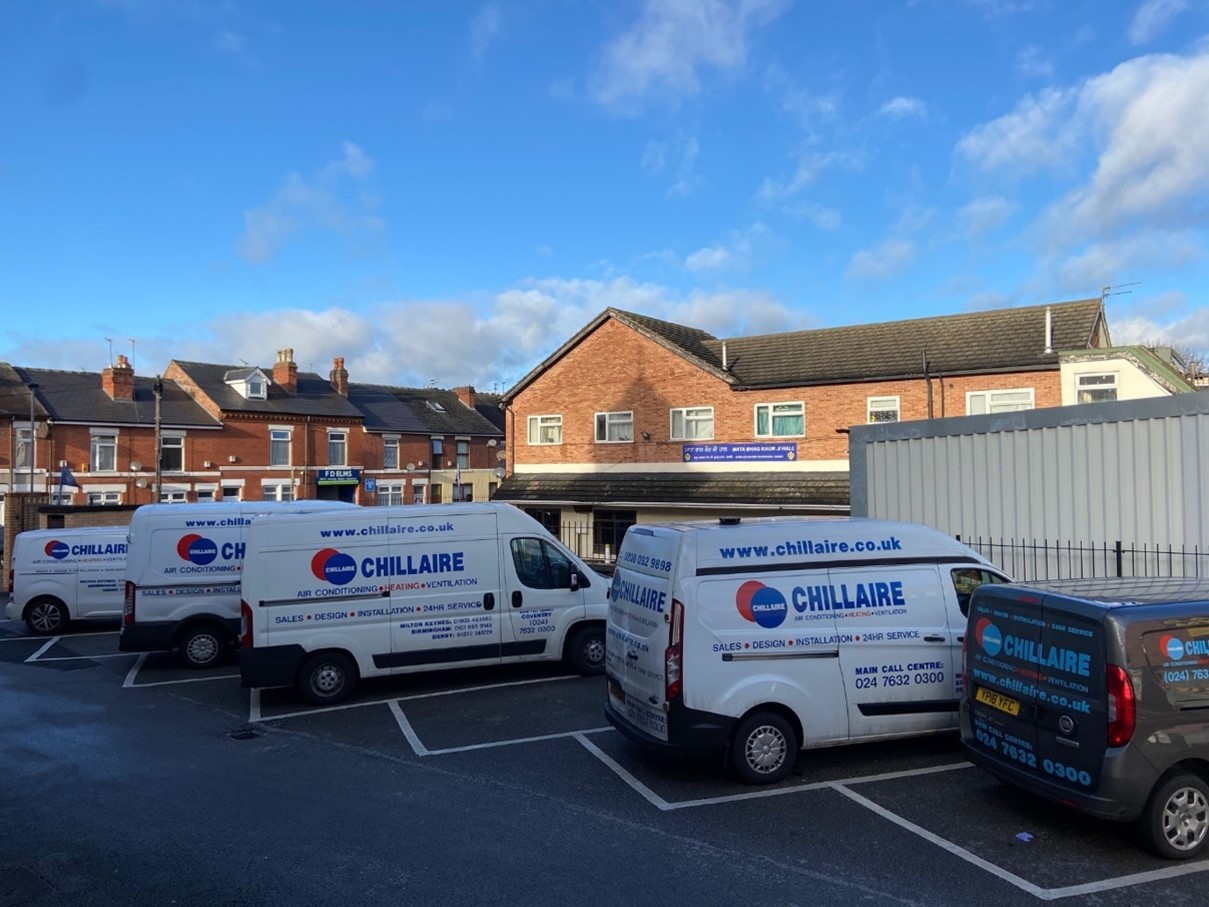 We installed Mitsubishi Electric heat pump air conditioning units in the main prayer hall located on the first floor of the temple. The hall itself can hold approximately 500 people for events such as religious ceremonies, weddings, and regular prayer programmes. Members of the committee at Guru Arjan Dev Ji Gurdwara felt that having the existing Daikin heat pump air conditioning systems updated would be beneficial as the temple receives many visitors and volunteers who need to be seated in a comfortable environment. The new systems would have the latest technology and be more economically efficient.
Client Needs
The existing Daikin systems were 15 years old and were starting to break down and costing a lot to repair and maintain. Chillaire Limited provided various options and Mitsubishi Electric was the preferred choice in the end. The new Mitsubishi Electric systems would be more efficient and deliver higher levels of cooling and heating into the prayer hall. We installed new swirl supply air supply grilles in place of the existing two-way blow grilles to distribute the cool / warm air more evenly across the prayer hall.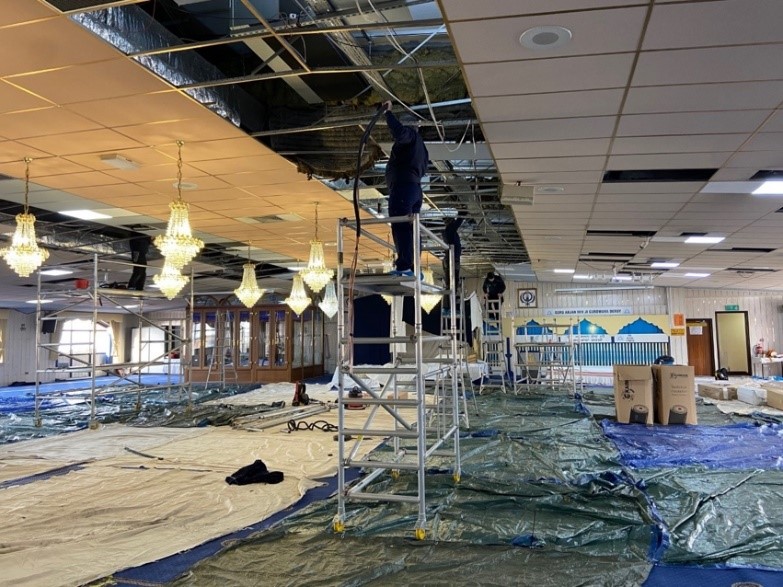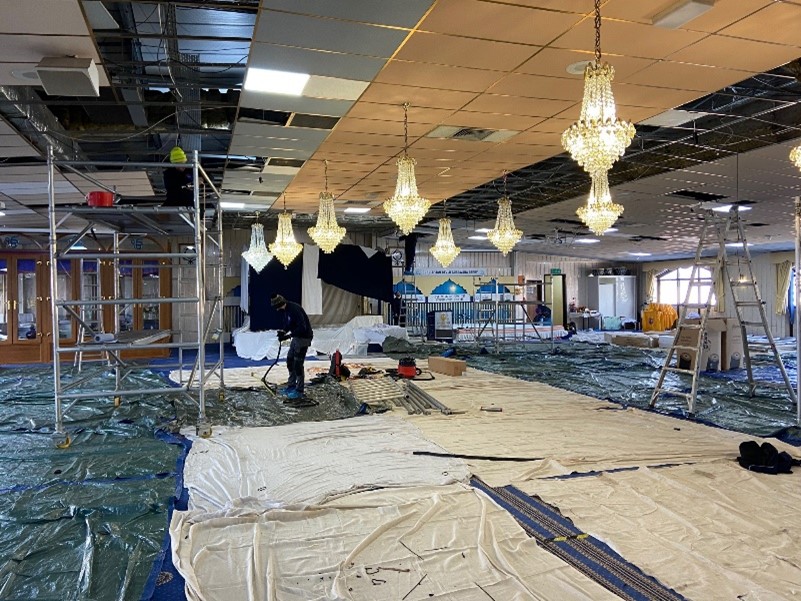 Project Details
The project itself consisted of us removing the existing Daikin ducted heat pump AC split type systems. With the indoor units being in the main prayer hall ceiling void, we laid out floor protection to cover the entire surface so that the carpet was protected before any work commenced. The Daikin systems were properly de-commissioned with the refrigerant removed and sent back to our approved gas wholesale supplier for safe recycling or destruction. The indoor units were disconnected and taken down and all internal pipe work and cables were removed. The Daikin outdoor units were located on the roof of the prayer hall and not easily accessible to the engineers, who stripped them down and took them off the roof carefully using a mobile scaffold tower.
The new systems installed were Mitsubishi Electric heat pump inverter ducted split type systems. We installed the new Mitsubishi Electric ducted indoor units in the same locations from where the existing Daikin indoor units were removed. The Chillaire team then installed the new Mitsubishi Electric outdoor units at ground level, so that they are more easily accessible and safer for future servicing.