Installation at Denfield Marketing & Advertising in Leamington Spa
Chillaire Limited supplied and installed two new Hitachi Heat Recovery, Heat Pump, Side Flow VRF Air Conditioning Systems at the new offices for Denfield Marketing & Advertising in Leamington Spa.
Chillaire Limited designed, installed and commissioned the selected Hitachi Variable Refrigerant Flow Heat Recovery Air Conditioning System to fit into the new office offices within Oddfellow's hall, Leamington Spa.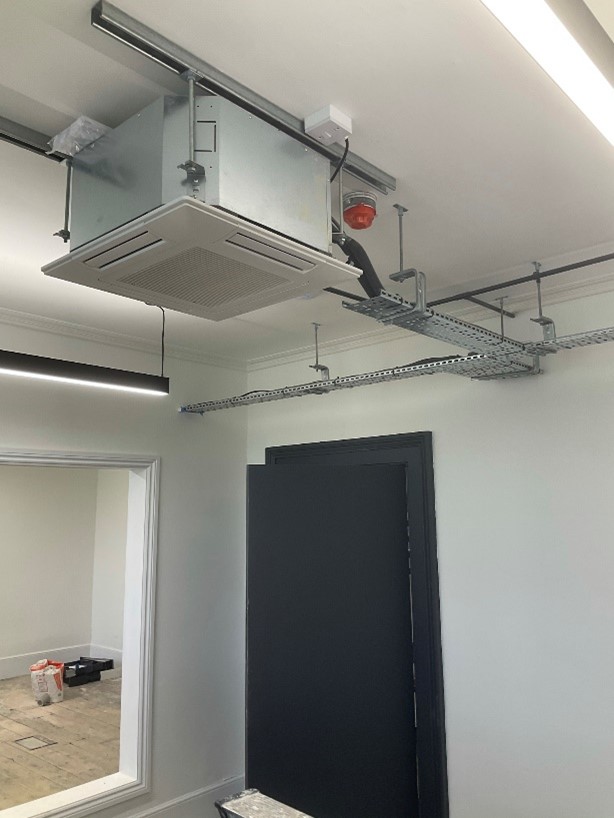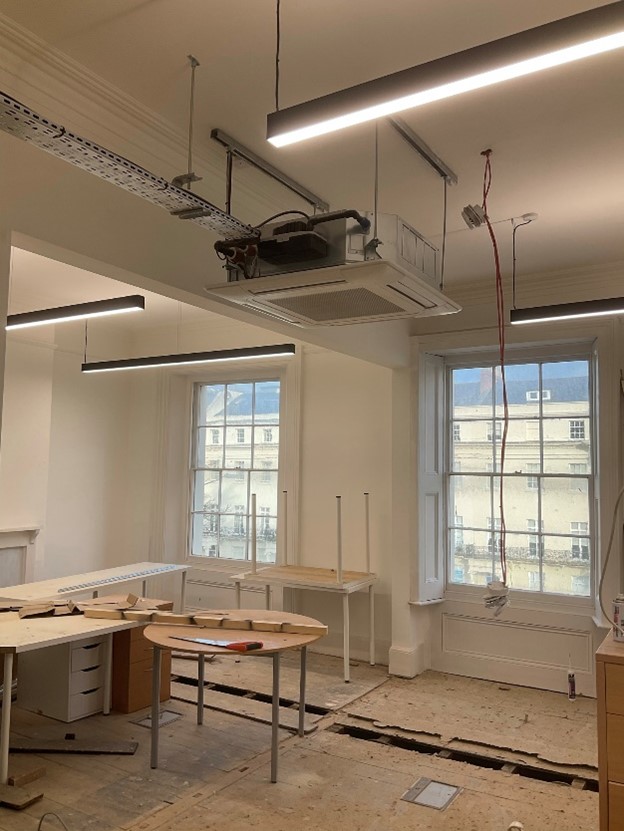 Hitachi 600sq Cassette & Branch Box
Oddfellows Hall is a grade 2 listed Georgian building. Chillaire Limited worked with the client and site manager Robert Dutton to ensure a neat, and aesthetically pleasing finish was achieved.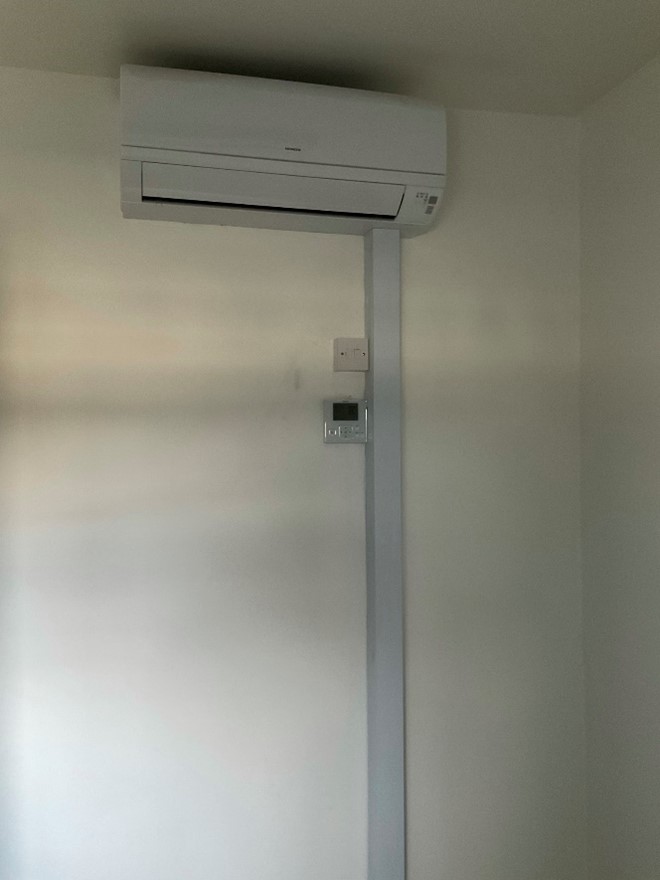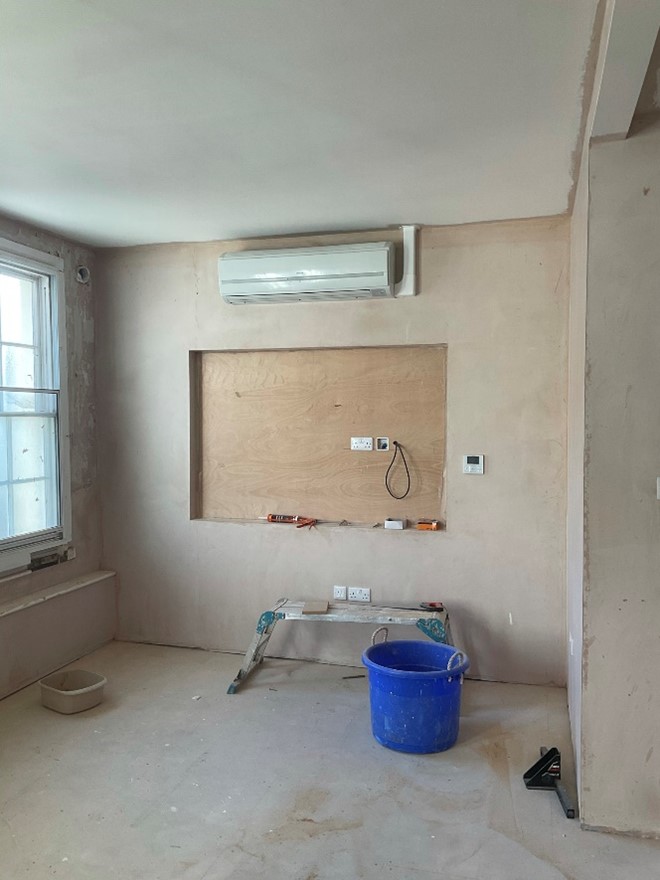 The project was by managed John Stacey (Projects) on behalf of Chillaire Limited and supervised on site by a Chillaire Limited SSSTS qualified supervisor.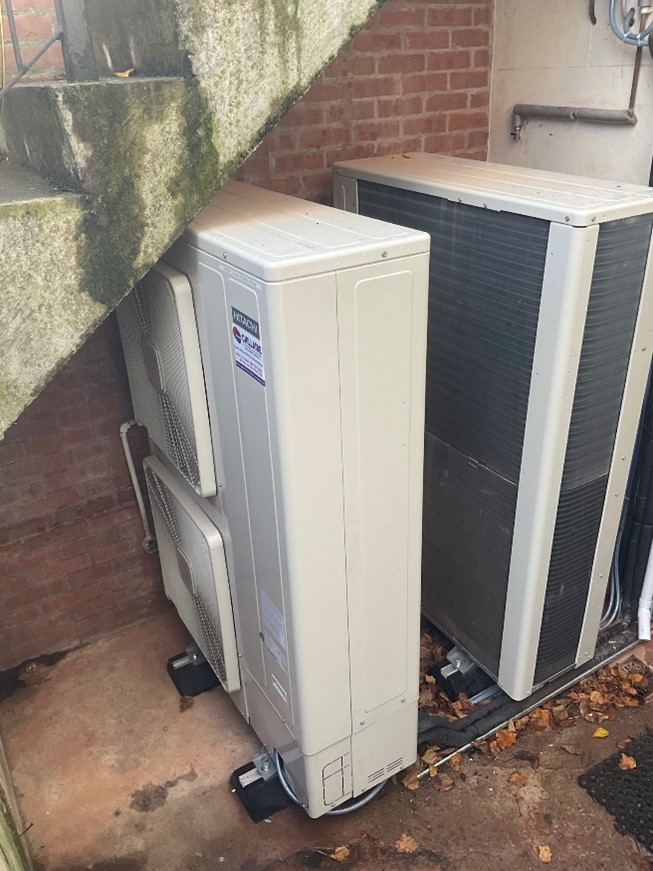 New Hitachi Side Flow VRF Outdoor
In addition to the VRF Project Chillaire Also Installed A New Single split system to the customers file server room. Using a wall mounted system from the new Hitachi R32 refrigerant gas air conditioner range.
FSXN1E is available from 8HP to 54HP and is fully compatible with the full range of System Free indoors – including the new 0.6HP units – allowing a greater number of connectable indoor units than ever before, achieving complete design and installation flexibility
Heat Recovery VRF air conditioning controls the amount of refrigerant flowing to each of the evaporators using branch selector boxes, located throughout the pipework, this allows the system to provide simultaneous heating and cooling to different rooms, floors, or areas. This is can be critical during certain summer / winter days where some rooms will incur more southern facing heat gains, which will mean they require cooling capacity, whereas a north facing room may still have the need for heating capacity.
3 pipe VRF systems enable heat recovery from part of a building to another – an energy efficient way of transferring unwanted heat to areas that require additional warmth (larger open plan offices).
VRF systems are very flexible in the choice of indoor heating/cooling fan coil units available – from small wall mounted units, floor mounted, ceiling cassette to the larger ceiling concealed ducted systems.
The Benefits – Energy Efficiency
In the UK, many buildings through the year require cooling capacity to some areas and heating to others – even in adjacent offices. The heat recovery VRF systems will re-distribute recovered heat energy from areas too warm and distribute to areas requiring additional warmth. This can achieve savings of up to 30% over standard 2-Pipe / Split systems.