Atherstone, Warwickshire Server Room Vaillant Air Conditioning System Replacement
Chillaire Limited carried out the installation of a Mitsubishi Heavy Industries (MHI) wall split type air conditioning system from the Mitsubishi Heavy Industries SRK wall range to provide 5.0 kW of cooling capacity into the server room in Atherstone, Warwickshire. The new MHI air conditioning system was installed in place of an existing Vaillant wall split type air conditioning system.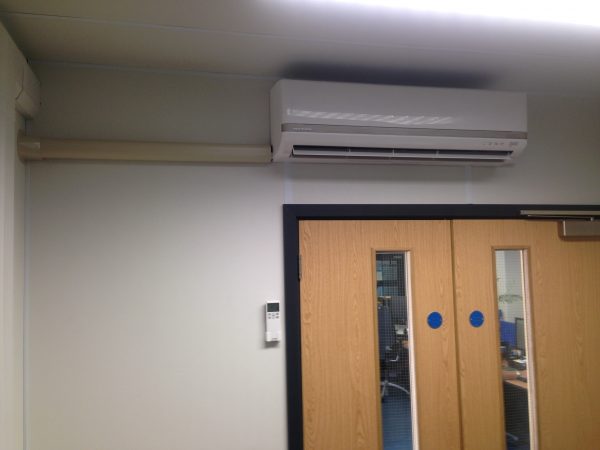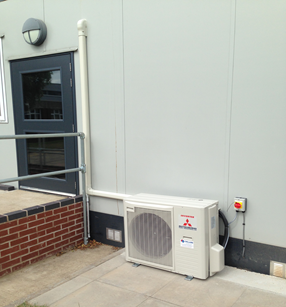 The Mitsubishi Heavy Industries (MHI) SRK-ZR indoor wall units are robust and ideal for server room applications and offer value for money. The MHI range comes with high sensible capacity and with extended warranty (subject to a service agreement). The Mitsubishi HI range has inverter driven technology and therefore offer energy efficiency.
The system was designed, supplied and installed by Chillaire Limited into a new portacabin type constructed premises at the site in Atherstone, Warwickshire. The external pipe work & cables were installed in Inoac trunking rather on cable tray to provide a neater and tidier finish.
We supplied the Mitsubishi Heavy Industries system to replace a faulty Vaillant air conditioning system, as spare parts were unobtainable for the existing Vaillant air conditioning system and a new system option was the only alternative to the customer.
Chillaire Limited have replaced a number of existing Vaillant air conditioning systems that have been failing for which Vaillant are unable to provide spares. Vaillant are a well recognised and leading manufacturer of boilers and heating products, entered the air conditioning market about 15 years ago, but decided to pull out of the air conditioning market and stopped manufacturing air conditioning products some 7 to 8 years later and carried on supplying spares for an number of years until stocks diminished and are no longer able to offer any spares. Chillaire Limited have found that the Mitsubishi Heavy Industries air conditioning wall systems are an ideal replacement solution for the Vaillant air conditioning systems and have been replacing Vaillant air conditioning systems all over the Warwickshire, Leicestershire, Northamptonshire, Worcestershire, West Midlands and Birmingham area and generally throughout England and Wales. Our Freephone number 0800 092 9898
For new air conditioning systems, heatpump air conditioning systems or if you are looking to replace an existing Vaillant air conditioning system or any other manufactured air conditioning system call Chillaire Limited for a free no obligation site survey and quotation.
You can contract us through our website www.chillaire.co.uk or email us at sales@chillaire.co.uk.
You can call anyone of our local offices:
Coventry & West Midlands office
16 Lythalls Lane
Holbrooks
Coventry
West Midlands
CV6 6FG
Telephone: 024 7624 9440
Email us at sales@chillaire.co.uk / www.chillaire.co.uk
Nuneaton & Warwickshire Office
Unit 1 Veasey Close
Attleborough Fields Industrial Estate
Nuneaton
CV11 6RT
Telephone: 024 7632 0300
Email us at sales@chillaire.co.uk / www.chillaire.co.uk
Leicester & Leicestershire Office
3rd Floor
St George's House
6 St George's Way
Leicester
Leicestershire
LE1 1QZ
Telephone: 0116 202 5094
Email us at sales@chillaire.co.uk / www.chillaire.co.uk
Redditch / Alcester & Worcestershire Office
Minerva Mill Innovation Centre
Station Road
Alcester
Warwickshire
B49 5EH
Telephone: 01527 531275
Email us at sales@chillaire.co.uk / www.chillaire.co.uk
Kettering & Corby / Northants Area office
10A Silver Street,
Kettering
Northants
NN16 0BN
Telephone: 01536 386046
Email us sales@chillaire.co.uk / www.chillaire.co.uk
Northampton & Northamptonshire Office
Moulton Park Business Centre
Redhouse Road
Moulton Park
Northamptonshire
NN3 6AQ
Telephone: 01604 269540
Email us at sales@chillaire.co.uk / www.chillaire.co.uk
Call us for Central England, Leamington Spa & Warwick on 01926 825681.
For Stratford upon Avon and Warwickshire area call us on 01789 273289
 Call us on Telford: 01952 424870 for Shropshire / Staffordshire and North West England
 Call us on Derby: 01332 561729 for Derbyshire / Nottinghamshire and North East England
 Call us on Milton Keynes: 01908 483585 for South East England
 Call us on Banbury: 01295 207682 for South West England
You can call us on our Freephone number: 0800 092 9898
 Visit our website for further details: www.chillaire.co.uk