Chillaire Limited carried out the installation of a Mitsubishi Heavy Industries (MHI) ceiling cassette split type air conditioning system from the Mitsubishi Heavy Industries FDT cassette range to provide 5.0 kW of cooling capacity into the chemist dispensary area in Tamworth, Staffordshire.
The ceiling cassette heat pump air conditioning fan coil unit was installed into the dispensary area to provide comfortable working conditions all year round, cooling in summer and heating in winter to provide a comfortable working environment for the staff working in the chemist dispensary area and to maintain the conditions for the medication stored there as well.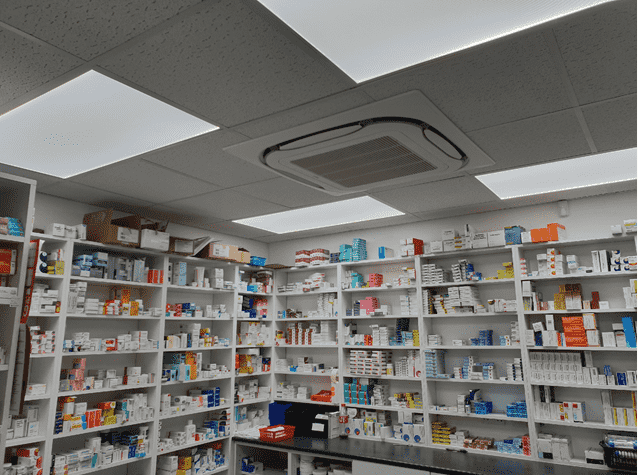 The Mitsubishi Heavy Industries (MHI) FDT ceiling cassette fan coil units are robust and ideal for commercial retail applications and offer value for money. The MHI range comes with high sensible capacity and with extended warranty (subject to a service agreement). The Mitsubishi HI range has inverter driven technology and therefore offer energy efficiency.
The system was designed, supplied and installed by Chillaire Limited into the dispensary area of the chemist premises at the site in Tamworth, Staffordshire. The MHI air conditioning system was required to keep medication and staff at comfortable room temperature.
Chillaire Limited have carried out similar air conditioning systems installations in medical environments, such as chemists, laboratories, clinics, surgeries and consulting rooms all over the Warwickshire, Leicestershire, Northamptonshire, Worcestershire, West Midlands and Birmingham area and generally throughout England and Wales. Our Freephone number 0800 092 9898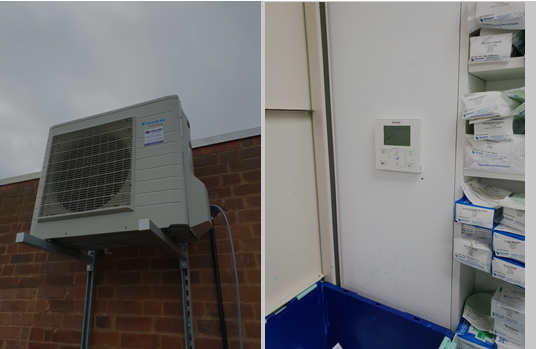 For new air conditioning systems, heatpump air conditioning systems or if you are looking to install heating & cooling using a heat pump air conditioning system for chemists, laboratories, clinics, surgeries or consulting rooms please call us, we can offer many other manufactured air conditioning systems, call Chillaire Limited for a free no obligation site survey and quotation.
You can contact us through our website www.chillaire.co.uk or email us at sales@chillaire.co.uk.
You can call anyone of our local offices:
Call us for Central England, Leamington Spa & Warwick on 01926 825681.
For Stratford upon Avon and Warwickshire area call us on 01789 273289
Call us on Telford: 01952 424870 for Shropshire / Staffordshire and North West England
Call us on Derby: 01332 561729 for Derbyshire / Nottinghamshire and North East England
Call us on Milton Keynes: 01908 483585 for South East England
Call us on Banbury: 01295 207682 for South West England
You can call us on our Freephone number: 0800 092 9898
Visit our website for further details: www.chillaire.co.uk