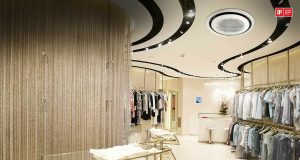 Evenly circulates & cools every corner
Unlike 4-way, cassette type air conditioners that create areas of uneven airflow where cool air can't reach*, a circular outlet blows cool air in all directions, so every corner of a room is the same temperature**.
Comfortable cool, not unpleasantly cold
A bladeless design softly disperses cool air across the room, making you comfortably cool without feeling a cold draft**. With no blades to block the air flow, it also expels 25% more air* and spreads it farther.
Circular to perfectly fit in everywhere
Its innovative circular design can match a multitude of interior designs, so it perfectly fits in everywhere. Its minimalist modern styling creates a sophisticated look and its circular shape stands out beautifully.
Spreads more air in more ways
An innovative Booster Fan enables cool air to be expelled at much lower angles. It creates a low pressure area around the outlet, so that cool air comes out parallel to the ceiling and disperses across a wider area.
For further information contact Chillaire Limited an accredited certified supplier / installer of Samsung air conditioning products at the followings address:
Chillaire Limited
16 Lythalls Lane
Holbrooks
Coventry
CV6 6FG
Tel: 024 7624 9440
Email: sales@chillaire.co.uk