Chillaire Limited designed, supplied and installed Mitsubishi Heavy Industries wall split heat pump air conditioning systems into a Veterinary Practice / Surgery in Rugby, Warwickshire.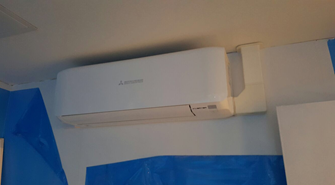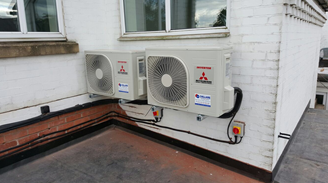 Chillaire Limited installed Mitsubishi wall systems from the Mitsubishi Heavy Industries SRK range into a public waiting area, consulting rooms and an animal surgical treatment room.
The surgery had a major refurbishment and Chillaire Limited asked to get involved and provide advice on the most cost effective solutions to meet the various requirements in the various areas at the practice. We provided consultancy, designed the best package and put it forward to the end client. Once our design an quotation was accepted, we supplied, installed and commissioned the Mitsubishi HI SRK wall heat pump air conditioning systems into the various areas.
Chillaire Limited have carried out heat pump air conditioning installations at various Veterinary surgeries in the  Coventry & Warwickshire area over the past few years and have found that we are getting more enquires each year from this sector.
If you are interested in details regarding the Mitsubishi Heavy Industries Air Conditioning systems range or have a Veterinary practice, and would be interested in a free no obligation quotation, please call us at our Coventry office: 16 Lythalls Lane, Holbrooks, Coventry, CV6 6FG on 024 7624 9440 or email us at sales@chillaire.co.uk and for more details you can visit our website – www.chillaire.co.uk
You can also call us on our local Rugby phone number:
01788 669164