Daikin UK and the refrigerant management company A-Gas will be working together to recover and re-use reclaimed refrigerant.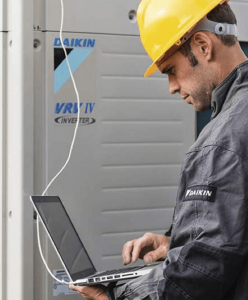 Announced at Daikin UK's D1 Partner event in London last week, their Commission with Confidence service guarantees that the R410A refrigerant trim charge for its variable refrigerant volume (VRV) systems will now use reclaimed refrigerant. Daikin's D1 and D1+ partners will also be rewarded for the amount of refrigerant they reclaim.
Reclaimed refrigerant delivers zero impact on F-gas quotas
Daikin's VRV IV+ systems, launched in February this year, and the older VRV IV S-series units will now have certified reclaimed refrigerant allocated to them during production, so they will have zero impact on F-gas quotas.
The reclaimed refrigerant used in these units will mean save the equivalent of 300,000 tons of CO2 that would be needed for virgin refrigerant production.
A new Reclaim with Confidence service was launched at the event which is available solely to Daikin D1 Business Partners, like Chillaire, to promote refrigerant reclamation.
Rapid Recovery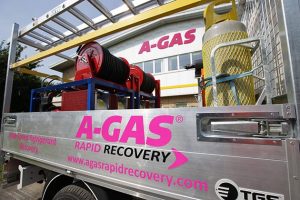 For large systems the A-Gas Rapid Recovery service can be used, saving up to 70% of time and costs on site.
Rapid Recovery is a bespoke AHRI certified F-gas compliant recovery service. Its recovery rates are approximately ten times faster than traditional recovery units.
The Rapid Recovery equipment was used to remove 450kg of refrigerant from three chillers being decommissioned at St George's hospital in London. The process, which would have taken three days using traditional equipment, was completed in just four hours. At a meat processor in Scotland, two tonnes of refrigerant were recovered in six hours.
The Rapid Recovery machines are based on a wheeled frame that will fit through standard doorways. They have 75metres of hose and are independently powered.
A Daikin D1 Partner
Chillaire is a Daikin D1 business partner. Our head offices are in Nuneaton although we operate throughout the UK. We design, install and maintain air conditioning, commercial and industrial chillers, heating and ventilation systems as well as undertaking residential projects.
Please get in touch if you would like to find out more. Email sales@chillaire.co.uk
Head Office: Unit 1 Veasey Close, Attleborough Fields Industrial Estate, Nuneaton, Warwickshire, CV11 6RT
Nuneaton office telephone number: 024 7632 0300
We also have offices in the West Midlands, Leicestershire, Nottinghamshire, Warwickshire and Northamptonshire.