Depending on construction and layout, there are several things to think about if you want your factory heating to be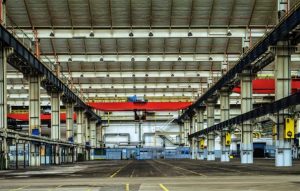 effective and efficient.
If your specifications aren't properly prepared the result can be poor heat distribution throughout the space, high costs and an adverse carbon footprint.
Factory heating options
Radiant and warm air and heating are your two main factory heating options.
Radiant heaters warm surfaces directly rather than the air, quickly increasing the local temperatures. However, they need to be directly overhead to be effective, so they aren't good for high areas or where there are obstructions, although they can be a good choice for spaces that are open to outside air, such as loading bays.
In many cases warm air heating will be more efficient, especially if you have high ceilings. It draws air across a heat exchanger to increase its temperature and the warmed air is distributed throughout the space using fans. The heaters must be distributed evenly throughout the space to maintain consistent temperatures.
Warm air heat source options
Your choices of heat source for warm air factory heating are:
Direct fired gas or oil – the burners will be inside the body of the heater. Modern condensing versions are available that operate in the same way as condensing boilers to deliver very high energy efficiency.
Indirect fired hot water – the hot water is piped to the heater from a central boiler or electric element.
Heater location
Warm air heaters can be suspended from the roof, mounted on a wall or can stand on the floor.
Although floor-standing models will use some of your floor space they will be easier to access for maintenance. Floor standing air rotation heaters using large, efficient axial fans can move large volumes of air through the space at relatively low temperatures.
Heat distribution
If it has been well designed, your heating system will distribute warm air throughout your space with very little variation in temperature from one area to another. To achieve this your heaters must be in the right positions to minimise 'cold spots'.
Destratification for your factory heating
In high-roofed buildings warm air will rise, known as thermal stratification. The Carbon Trust estimates energy consumption in industrial buildings with warm air heating can be reduced by 20% with the correct use of destratification fans. To achieve energy savings through destratification you will need the right system design and the most appropriate products.
You can install suspended fans that re-circulate warm air from the roof area back down to floor level. Alternatively, air rotation heating can draw in cooler air at a low level and rotate it to the higher levels where it will mix with the warmer air. This develops an airflow pattern, displacing the high-level hot air and returning it to floor level to provide automatic destratification.
Heating control
Energy efficiency depends on your choice of factory heating plant, how you control it, and how different areas are used.
Timing controls are also useful to heat areas before people start work and to turn heating off at the end of the day. The pre-heating period can be combined with seasonal compensation when outdoor temperatures are low.
In areas that are infrequently used it will be worthwhile making them into specific zones in your heating system so that you don't waste energy. Temperature sensors can also be used to automatically adjust heating to maintain the right temperature.
Full building management systems (BMSs) can optimise timing and temperature to improve the overall efficiency of your heating system.
Energy use
Heating is a significant cost for your business, and you could be spending 30% more than you need to, so monitoring your energy consumption is important.
Each heating appliance in your factory has a gas consumption rate, measured in cubic metres per hour. Different gas meter models (for example U6, U10, U16, U25) provide a certain volume of gas. If your heating system design exceeds the maximum capacity of your gas meter, you will probably need to install a new meter and possibly upgrade your gas supply to make sure the system works properly.
You will need to know how many cubic metres of gas are used per hour (Standard Cubic Metres per Hour or SCMH) when demand is at its highest and whether your supply is low or high pressure. If you're unsure about the pressure of your gas supply, a Gas Transporter 1 (GT1) test by the network owner can be requested.
Summary – Factory construction, layout and use will be different for each business, so it's important that your heating is tailored to your needs to provide the best performance and value for money.
Chillaire – your national heating, ventilation and air conditioning partner
Centrally located in Nuneaton, and with offices around the UK, Chillaire is a trusted partner for design, installation and maintenance of factory heating, ventilation and air conditioning systems.
You can contract us through our website www.chillaire.co.uk or email us at sales@chillaire.co.uk.
You can call any one of our local offices:
Nuneaton & Warwickshire Office: Unit 1 Veasey Close, Attleborough Fields Industrial Estate, Nuneaton, CV11 6RT. Telephone: 024 7632 0300
Coventry & West Midlands Office: 16 Lythalls Lane, Holbrooks, Coventry, West Midlands, CV6 6FG. Telephone: 024 7624 9440
Leicester & Leicestershire Office: 3rd Floor, St George's House, 6 St George's Way, Leicester, Leicestershire, LE1 1QZ. Telephone: 0116 202 5094
Redditch & Alcester & Worcestershire Office: Minerva Mill Innovation Centre, Station Road, Alcester, Warwickshire, B49 5EH. Telephone: 01527 531275
Northampton & Northamptonshire Office: Moulton Park Business Centre, Redhouse Road, Moulton Park, Northamptonshire, NN3 6AQ. Telephone: 01604 269540
Kettering, Corby & Northants Area Office: 10A Silver Street, Kettering, Northants, NN16 0BN. Telephone: 01536 386046