Powrmatic NVX Warm Air Suspended Gas Unit Heater installed by Chillaire Limited at our customer premises in March Industrial Estate, Daventry.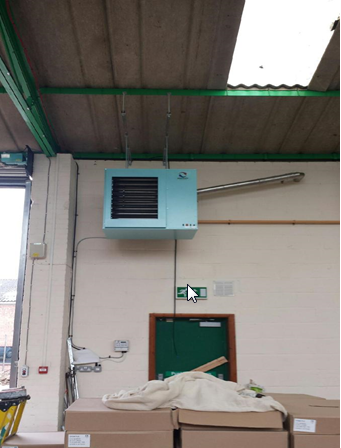 Chillaire Limited conducted the site survey, carried out the heat loss assessment and selected the Powrmatic NVX heater.
Chillaire heating engineers carried out the entire installation from hanging the heater off the roof beams, installing the mains gas pipe, installing the mains electrical power supply, installing the Powrmatic MV200 control unit and installing the flue complete with dektite seal.
Chillaire Limited are an approved supplier / installer of Powrmatic products and have been supplying and installing them for over 20 years and recommend them very highly to new and existing customers.
Powrmatic have now brought out their new LNVX model gas fired heater, it is ErP compliant and benefits from a redesign throughout its entire construction, performance and aesthetics.
It has easy access control panel and has been designed with engineers in mind. The hinged control panel allows easy access to the burner compartment during installation and servicing. The new 'Plug & Play' control panel allows for quick and trouble free wiring connections.
Reduced NOx, the advanced LNVx is ergonomically designed with low NOx levels which provides efficient and cost effective heating solutions for any industrial and commercial properties whilst built with heating engineers in mind.
The new Powrmatic LNVX heater is more economical to run compared to the conventional range still offered by Powrmatic, such as the NVX range which is still though a superb heater.
Powrmatic new energy efficient LNVX heater range now available for installations into warehouses, factories, distribution centres, workshops, garages, halls, sports halls, gyms and many more applications / environments.
Call the Coventry gas heating centre – Chillaire Limited 16 Lythalls Lane, Holbrooks, Coventry, CV6 FG / Tel: 024 7624 9440 or Email: sales@chillaire.co.uk
Air Conditioning Heat Pump & Gas Heating solutions and installations in Coventry, Hinckley, Leamington Spa, Rugby, Solihull, Daventry, Crick, Warwick, Stratford upon Avon, Redditch, Alcester, Bromsgrove, Leicester, Coalville, Loughborough, Derby, Nottingham, Kettering, Lutterworth, Northampton, Milton Keynes, Bedford, Banbury, Brackley, Corby, Wellingborough, Tamworth, Birmingham, Cannock, Stafford, Stoke on Trent, Walsall, Worcester, Kidderminster, Telford, Stourbridge, Evesham, Gloucester, Cheltenham, Warwickshire, Leicestershire, West Midlands, East Midlands, Northamptonshire, Nottinghamshire, Derbyshire, Worcestershire, Gloucestershire